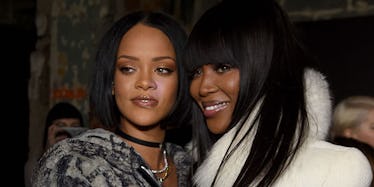 Rihanna's Mystery Man Is Naomi Campbell's Ex, And That's Why They're Feuding
Jamie McCarthy/Getty Images
Rihanna sure knows how to pick 'em! A day after the internet exploded over pics of Rih making out with a mysterious new man in a hot tub, we're getting some info about him that's, let's just say, very enlightening.
To get the full story, first, we have to rewind a couple months back to March, when a Watch What Happens Live viewer noticed Rihanna and Naomi Campbell both unfollowed one another on social media, and asked the supermodel if there was beef between them.
True to form, Naomi played it cool. She said everything was fine between them, but it was hard to miss that shade when she smirked and followed it up with "I'm an actress now, Andy."
Turns out, Rihanna's new makeout partner might be the reason for this tiff with Naomi Campbell.
Today, it was revealed Rih's new boy toy is a billionaire heir to Toyota in Saudi Arabia named Hassan Jameel (get it, RiRi!). But the most fascinating detail about Jameel isn't that he's a billionaire — it's that his ex-girlfriend is none other than Naomi Campbell!
We can all thank various Twitter sleuths for digging up these photos of Hassan Jameel cozying up with Naomi Campbell right around the same time he was spotted getting it on with Rihanna.
The real downer here is Rihanna and Campbell actually used to be really tight, but it looks like their friendship couldn't survive a hot billionaire who was down to get steamy.
Just look at these throwback pics of Rihanna and Naomi Campbell together, in the pre-Hassan days:
RIP to this beautiful, iconic friendship.
And while we're all grieving the probable death of Rihomi, what fans are most interested in figuring out is what kind of superhuman Hassan Jameel must be in order to jump from Naomi Campbell to Rihanna!
And let's not forget about Drake in the middle of all this. Here's hoping Rih's constant paramour is taking her macking on a new dude in stride.