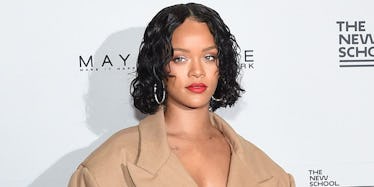 Rihanna Spotted Making Out With A Mystery Man And The PDA Is Intense – PHOTOS
Jamie McCarthy/Getty Images
UPDATE: On Wednesday, June 27, Daily Mail reported the mystery man Rihanna was photographed kissing in a pool is 29-year-old Hassan Jameel, the heir to the Toyota fortune. According to Daily Mail, the two are reportedly dating. 
EARLIER: New photos have surfaced of Rihanna kissing a mystery man in a pool, and the PDA is intense.
Elite Daily reached out to Rihanna's team for comment on the new photos, but did not hear back by time of publication.
On Tuesday, June 27, TMZ reported the 29-year-old singer was seen swappin' spit with this hottie in Spain. The photos were reportedly taken on Monday, June 27, and the two are rumored to be on vacation together.
As you can see from the images, it looks like the photographers captured all angles of this steamy makeout session. LOOK AT THAT TONGUE.
RiRi is getting it.
So, who is the man kissing Rihanna in these sexy pool pictures?
Well, that's unclear at the moment.
According to some fans on Twitter, the man might be Isco Alarcon, a Spanish professional soccer player. However, there is no confirmation that it is him. This is solely based on fans assessing the mystery man's beard and white teeth in the photos.
Great investigation work, internet. But TBH, he could really be anybody!
If now you're curious who Isco Alarcon is, then have no fear. Let's take a closer look at Rihanna's rumored new man.
For starters, his full name is Francisco Román Alarcón Suárez, but apparently he goes by "Isco." He plays as an attacking midfielder for Real Madrid, so RiRi might be dating an athlete.
Woah, baby.
The man loves social media and you can check out several pics of him on Instagram.
I'll highlight some of my favorites... like, uh... this one. Man loves his selfies.
Man loves his shoes.
Man loves his dog.
Man loves his teammates.
MAN LOVES KISSING RIRI (ISCO, IS THIS YOU?!?!?!).
Mystery man, we have many questions about your sexy makeout session with Rihanna. But first, please just tell us who you are?!
And, uh, Isco? If this isn't you in the pics, then call me. I'd like to buy you dinner to make up for it.