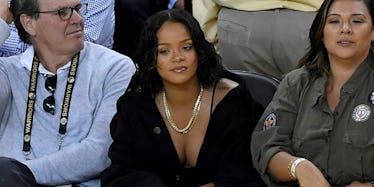 Rihanna Might Have A New Boyfriend, According To PDA Pics And Twitter Rumors
Getty Images
UPDATE: On Wednesday, June 27, Daily Mail reported the mystery man Rihanna was photographed kissing in a pool is 29-year-old Hassan Jameel, the heir to the Toyota fortune. According to Daily Mail, the two are reportedly dating. 
EARLIER: On Tuesday, June 27, pictures of Rihanna kissing a mystery man in a pool broke the internet. Literally.
Elite Daily reached out to Rihanna's team for comment on her steamy new hookup, but did not hear back by time of publication.
According to TMZ, the 29-year-old singer was seen making out with this cutie in Spain. The photos were reportedly taken on Monday, June 27, and the two are rumored to be on vacation together.
So, who is the lucky guy? Well, according to Twitter, many fans think he MIGHT be Isco Alarcon, a Spanish professional soccer player.
Although there is no confirmation the man is really Alarcon, Twitter is truly convinced Rihanna and Isco Alarcon are a thing.
OMG, does Rihanna have a boyfriend? Is she in love?!
All right, all right – let's not get carried away, now. The man in the pool pic does bear a striking resemblance to Isco Alarcon. It's the beard, huge biceps, and shiny, white teeth.
However, some fans who know Alarcon really, really well, are arguing it might not be him.
Ehhh, maybe he got some fresh ink in Spain?! Who knows!
Anyway, if you're now asking the question, "Who is Isco Alarcon?", then I'll share some fun facts about Rihanna's rumored new bae.
First off, he's an ATHLETE. Alarcon plays as an attacking midfielder for Real Madrid. Yeah, that's hot AF.
Second, he loves animals. According to his Instagram pics, it looks like he has a dog. See, you guys. We're learning so much already!
Third, he like, really loves this dog. Rihanna, you might have to compete for this man's affection. ISCO AND BUBU ARE TIGHT.
TBH, that's all I really know about Isco Alarcon at the moment. I won't dive too deep into his Instagram because we don't even know if he and Rihanna are a thing. I DON'T WANT TO GET MY HOPES UP.
He's super sexy though, so if the rumors are true, then girl, I'm proud of you.
And if not? Well, Isco... I'm single and ready to mingle. Hit me up, baby.