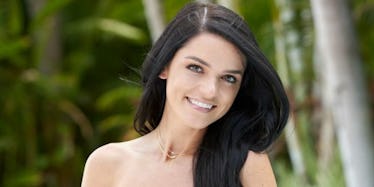 5 Reasons Raven Should Walk Away From 'Bachelor In Paradise' Engaged
ABC
I'm honestly having a hard time comprehending that Raven Gates and I are the same age. How does she own a small business? How did she become inspiring AF? How does she find all those perfect bodysuits? Oh well, I guess live and learn... or just be Raven and be perfect. Here's one thing I definitely hope to figure out sooner than later: Does Raven get engaged on Bachelor in Paradise? While we'll have to anxiously wait and see, Twitter is shipping her with a few other fan favorites.
Raven has not commented on her relationship status, but everyone is rooting for her to find love. After Nick Viall proposed to Vanessa Grimaldi, people were confused. At that time, it was already released that Rachel Lindsay was the next Bachelorette, so I didn't understand how someone could pass up Raven. Silly, Nick. Actually, it turned out to be America's gain because we get to see more of her on Bachelor in Paradise. People are already pairing Raven off... with like everyone.
The internet has been rooting for Raven and Ben Zorn since forever.
When the cast was announced, Twitter instantly paired Raven Gates with Ben Zorn. Do you remember him? He competed on Kaitlyn Bristowe's season against none other than, Nick Viall. He was super cute and sweet — I could definitely see it.
Dean is also a favorite choice.
Honestly, I feel like people are 'shipping Raven and Dean because they are both fan faves. I get it, we all love Raven and Dean... but do we love them together? I'm not sure, yet. Plus, I'm really banking on Dean and Kristina Schulman. However, the more I think about, the more I'm like, "why not?" So many solid boyfriend choices.
Whether Raven finds love with those two or not, she totally deserves to find someone amazing. These five reasons will make you wonder how on Earth she's still single in the first place.
1. She's seriously the funniest.
Follow her on Twitter. I mean it, go follow her right now @ravengates09. Did you? OK, good. She literally keeps me laughing all day long. Her #ThingsAlexisSays and #MorningThoughts are awesome. Raven needs someone to laugh through life with.
2. She's loyal AF.
While a fiancé may or may not be on the agenda, Raven runs deep with her girl group. She's always out with her Bachelor friends and even got in a Twitter war defending the BIP cast and crew. Now that's loyalty.
3. She's brutally honest.
Whether it's expressing her love or admitting that she never had an orgasm — you can always count on Raven to say it like it is. Honesty and loyalty... literally what more could you want from a life partner?
4. Family is everything to her.
Family is definitely important to Raven. After battling lung cancer, it was revealed on her hometown date with Nick Viall, her father was officially cancer-free. Raven obviously has strong family values and a lot of love for her parents.
5. She's the life of the party.
I'm sorry, this article is slowly turning into "Why Raven Should Be Engaged My Friend." Seriously though, she's always singing, laughing, and having a great time. How could you not want to hang out with her?
All in all, Raven seems like a really great person who's super down to Earth. I can't wait to follow her journey to find love on Bachelor In Paradise. Watch the season premiere on August 13 starting at 8 p.m. ET on ABC.