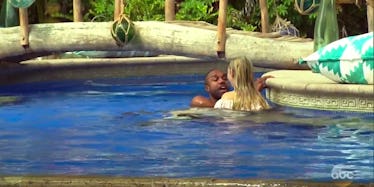 'Bachelor In Paradise' Trailer Gives Us The First Look At Corinne & DeMario
ABC
The Bachelorette finale will finally tell us who Rachel Lindsay chose to get engaged to, but what I was really tuning in to see was the trailer for the new season of Bachelor in Paradise. And true to the insane drama the new season has already produced before even airing, the first full-length trailer is bananas. Among all the insanity, the biggest part of the new trailer was our first look at DeMario Jackson and Corinne Olympios getting frisky in the pool on the first day — the incident which reportedly ended in the show getting shut down for several weeks and both contestants leaving the show.
The trailer begins with Corinne leading DeMario to the pool as the rest of the contestants look on in surprise, remarking it as an aggressive move they didn't expect to see on the first day of filming. We see a few shots of Corinne and DeMario laughing and getting close in the pool, and then cut straight to a producer ordering his cameraman to stop filming.
Obviously, this doesn't answer any of the questions we all still have about why exactly Bachelor in Paradise shut down production for several weeks and resumed without Corinne and DeMario, but at least we have our first glimpse as to what the situation looked like. We only have a week to wait to find out the rest.
The new trailer follows a 30-second promo clip for the new season, in which the series acknowledged the controversy that nearly shut down the season.
Of course, the big story around this new season of Bachelor in Paradise is what happened between Corinne Olympios and DeMario Jackson, which resulted in the show halting production and both contestants departing from the show. The exact situation remains unclear, but Warner Bros. investigation into it resulted in no charges of misconduct, and the series resumed filming without DeMario and Corinne.
Chris Harrison later confirmed although DeMario and Corinne left the series, the premiere will still include footage of them, and the premiere would clarify everything that happened to result in the production suspension.
Bachelor in Paradise will premiere on Monday, August 14.