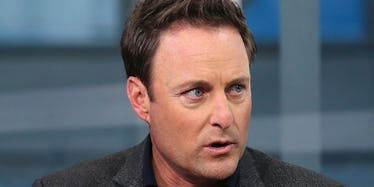 Chris Harrison Opens Up About Corinne & DeMario's 'BIP' Reunion: "It Was Confusing"
Getty
The most anticipated and pivotal moment in the Bachelor in Paradise franchise is on its way, and host Chris Harrison is actually pretty worried about how it's going to go down. The host just concluded his taping of this season's Men Tell All reunion special for The Bachelorette, and apparently, DeMario Jackson's choices during the taping have Chris Harrison concerned about how DeMario and Corinne's Bachelor in Paradise reunion is going to turn out.
The Bachelorette just filmed its Men Tell All reunion special, which will air next week, and Chris Harrison told Entertainment Tonight he was surprised by DeMario Jackson's "bad choices" during the taping. We have no clue what these "bad choices" could be, but apparently, they're worrying Harrison. The host went on to say he expected DeMario to address his controversy in a better way, and now he's not sure how the planned reunion taping with DeMario and Corinne Olympios after this season of Bachelor in Paradise is going to go.
One thing Harrison did guarantee is the murky issue of what really happened between DeMario and Corinne that halted production on Bachelor in Paradise would finally be clarified in the reunion interview. Reports have alleged that DeMario and Corinne may have engaged in a sexual act when unable to give consent, but nothing has been confirmed. Harrison said the issue is confusing and has a lot of layers, but will be thoroughly sussed out on the Bachelor in Paradise reunion with DeMario and Corinne.
All will be explained and I really do mean that. I need people to understand this was not a black-and-white, cut-and-dry issue. It's really — there's a lot of layers to it. It was very confusing. I went through it and it was confusing. So, trust me. It needs to all play out.
Harrison also addressed the first promo for Bachelor in Paradise, which was widely criticized for heavily featuring DeMario and Corinne and playing up their scandal. The host said he knows people are calling the promo tone deaf, but assures fans the whole situation will be explained in the new season.
First and foremost, I think a lot of people — some people on social media reached out and said we were tone deaf. And I need people to step back a little bit, wait and watch. All will be explained. Trust me. Have I left you guys hanging before in 16 years? No.
Season 4 of Bachelor in Paradise will premiere on August 14. The Men Tell All special will air next Monday.