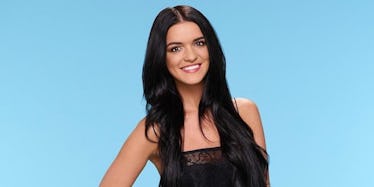 Everyone Wants Raven To Date This 2015 'Bachelorette' Contestant In 'Paradise'
ABC
The wait is over, Bachelor Nation: The Bachelor In Paradise cast is finally here *internet screams*.
The cast features Bachelor favorite Corinne Olympios, Raven Gates (who came in second place to Vanessa Grimaldi on Nick Viall's season), and DeMario Jackson, a contestant who was kicked off The Bachelorette last week by Rachel Lindsay because he allegedly still had a girlfriend when the show started filming.
But one cast member, Ben Zorn, was a surprise to fans. He was a contestant on The Bachelorette during Kaitlyn Bristowe's season, aka the first time we ever met Nick Viall.
Now, fans want him to end up with Raven Gates, the woman who had her heart broken by Nick Viall.
Here's the full cast lineup:
Corinne Olympios
Corinne was a fan favorite on Season 21 of The Bachelor with Nick Viall.
Raven Gates
Like we said before, Raven was on Season 21 of The Bachelor.
DeMario Jackson
DeMario had a bit of a scandal on last week's episode of The Bachelorette, so I'm hoping he and his ex are really exes now.
Taylor Nolan
Taylor was on Season 21 of The Bachelor along with Corinne and Raven.
Alexis Waters
You might remember Alexis as Shark Girl from Season 21. Yup, Shark Girl is back.
Amanda Stanton
Amanda Stanton was a fan favorite on Ben Higgins' season of The Bachelor, but she didn't make it to the final three.
Derek Peth
Derek was on Season 12 of The Bachelorette as one of the men to compete for JoJo Fletcher's heart.
Lacey Mark
Yet another contestant from Nick Viall's season!
Kristina Schulman
And another...
Danielle Maltby
And... another...
Jasmine Goode
WHY IS EVERYONE FROM THIS SEASON OF PARADISE FROM NICK VIALL'S SEASON OF THE BACHELOR?!
Robby Hayes
Robby wasn't on Nick Viall's season, he was on JoJo Fletcher's. But that would have been interesting.
Nick Benvenutti
Nick competed for JoJo Fletcher's heart on Season 12 of The Bachelorette.
Ben Zorn
Ben is the aforementioned contestant that fans are already shipping with Raven Gates! He was on Kaitlyn Bristowe's season of The Bachelorette and competed for her heart against — you guessed it — Nick Viall.
Vinny Ventiera
Vinny was a contestant on both JoJo's season of The Bachelorette and Bachelor In Paradise Season 3.
Alex Woytkiw
Alex was also one of the contestants from JoJo Fletcher's Bachelorette run.
OK, so, I'm assuming the way Bachelor In Paradise works is they take just about everyone who was rejected from the most recent seasons and throw them all together on a tropical island in the hopes that they'll all heal from the heartbreak together and not hook up cause they ARE here to make friends, right????
No? That's not what happens at all? Got it.
Bachelor In Paradise Season 4 premieres Tuesday, August 8, at 8 p.m. on ABC.