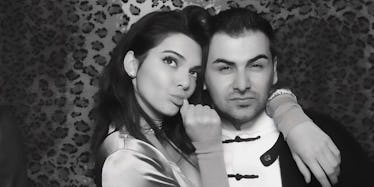 This Is The Random Guy Who Bought Kendall Jenner A Rolls-Royce For Her 21st
YouTube
Stop pretending a rando-ass prince didn't show up to your 21st birthday and hand you the keys to a Rolls-Royce, OK? Just stop. We've all been there. Stop it. Stop.
Don't make Kendall Jenner feel super weird all of a sudden for simply receiving a luxury automobile from millionaire businessman and family friend (aka vague Kris Jenner Kontact) Saygin Yalcin for her birthday.
Initially, fans thought the car was a gift to Kenny from Kris, but sister Khloé Kardashian set the record slightly straighter during a visit to "Jimmy Kimmel Live!" last week.
She told the host,
We got outside and there's a Rolls-Royce and this man standing there and I was like 'What's the gift, the guy or the car?' I was so confused! … I was like 'Do we even know who this guy is?'… He was some prince and I was like, 'Is this a joke?' On my 21st birthday I got, like, a dinner and a purse! I didn't know you just like get cars from strangers.
Yes, well, times have changed. Thanks to the foundation of hot, steamy drama Khloé laid in her 20s that helped build the Kardashian brand, her younger sisters can enjoy all the luxuries she never could.
Koko may have slummed it big time with her designer purse and family dinner, but Kendall got a car from a grown man no one in her family seems to know all that well, which is way better!
An undisclosed source close to the family -- who definitely isn't Kris Jenner, or anything -- told Us,
Kris played an integral role in orchestrating the gift of the Rolls-Royce from her close family friend, Saygin, to Kendall… She was so excited and happy to be able to make it happen and loved that she was the one who could present [Kendall] with the keys!
Fame. Is. Weird.