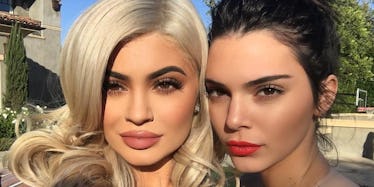 Kylie Jenner Posted The Most Adorable Throwback For Kendall Jenner's Birthday
Instagram
Happy birthday, Kendall Jenner!
The model celebrated her 21st birthday one night early in Los Angeles on November 2. Kendall stopped at hotspots Catch and Delilah to party with a bunch of her close friends and family.
After wearing a $9,000 Swarovski crystal dress designed by Lebanese designer Antoine Salameh, Kendall woke up the next morning to a ton of birthday wishes from her loyal fans, friends and family.
First, mom Kris Jenner shared a collage of baby photos of her 21-year-old daughter. Khloé Kardashian followed up with a tribute video to Kendall on her Instagram account.
Then, Kim Kardashian took to Twitter to share an embarrassing, but awesome KIMOJI honoring Kendall. Kim gave a similar gift to Caitlyn Jenner on her 67th birthday last month.
Perhaps the sweetest social media birthday wish of them all came from Kendall's youngest sister.
Kylie Jenner, 19, took to Instagram to share a heartwarming photo along with a sweet message for Kendall on her special day.
The post's caption reads,
My big sister is 21. Happy birthday, Kenny. My other half. I wouldn't be me if it weren't for YOU. We dreamt about the day when you'd turn 21 & I'd be 19. It came too fast... But who you are and where you are today was beyond my wildest expectations! You are an angel my supermodel sister. I love watching you live out your dreams. Every Kylie needs her Kendall.
Isn't she just the sweetest little sister anyone could ever ask for?!
Here's the Instagram post Kylie Jenner dedicated to Kendall Jenner on her 21st birthday.
Kylie posted a second photo with the caption reading, "Every Kylie needs a Kendall."
Now, that's genuine sisterly love right there!
In addition to all of the warm wishes, Kendall Jenner reportedly received a brand new Rolls-Royce with a price tag of $250,000 from Kris Jenner. Did you expect her NOT to get a car? We all know the Kardashians LOVE their luxury cars!
A source close to the family spoke to US Weekly, revealing,
Kris gave Kendall a Rolls-Royce! Kendall was shocked! Totally surprised and delighted!
I'll admit, a Rolls-Royce is a great gift to get on your 21st birthday... but let's not forget about what Kanye West gave Kim Kardashian for her 36th birthday this year. Need a reminder? Grab a tissue box because you're in a for a real tear-jerker!
Congratulations on turning the big 21, Kendall. Now you can drink... legally.