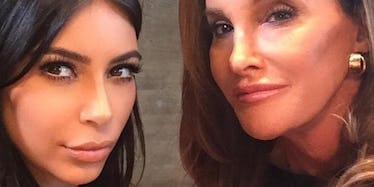 Kim Kardashian Was The First To Pay Tribute To Caitlyn Jenner On Her Birthday
Instagram
Happy birthday, Caitlyn Jenner!
Caitlyn celebrated her birthday on October 28 and Kim Kardashian honored her in the most Kim Kardashian way ever... She made Caitlyn her very own KIMOJI to commemorate her on her 67th birthday.
Kim, whose 36th birthday was on October 21, took to her official website and app to share the new digital masterpiece.
Now, this isn't your typical KIMOJI. Kim's team got pretty creative here...
In honor of her birthday, the KIMOJI team made Caitlyn her very own KIMOJI! Happy Birthday Caitlyn!
Who wouldn't want their own KIMOJI hand-delivered to them by Kim K.?
Here's the special KIMOJI Kim Kardashian had made for Caitlyn Jenner: Caitlyn Jenner on a Wheaties cereal box.
The Wheaties box is very symbolic to Caitlyn Jenner who graced the cover of the box as Bruce Jenner back in 1977. Back then, Caitlyn was the brand's official spokesperson after winning the gold in the Olympics.
Kim Kardashian decided to have a photo of Caitlyn Jenner wearing her famous ESPY dress illustrated on the box. I think it's safe to say the Kardashian family gives out the most meaningful birthday gifts.
Remember that tear-jerker of a tribute video Kanye West had made for Kim last week? I rest my case.
Kim wasn't the only one to wish Caitlyn a happy birthday. Kylie Jenner paid tribute in her own unique way with a sweet post on her website titled "HBD, Caitlyn!"
Kylie shared a handful of photos of her and Caitlyn as well as a short message, reading,
Happy birthday to the best dad ever!!! Kendall and I seriously lucked out.
Kylie continued with a story about a time they found a pretty lady bug together. She added,
We always have fun together, like that time when I had this school project to paint a rock and you took me to the golf course to find the perfect one. We searched forever until we found one with a smooth side. When we got home, you painted a ladybug on it, and honestly, it was the best ladybug EVER! I know you still have it somewhere! I have to find it now, lol. Love you, Dad! I hope you have the best birthday!
Isn't Kylie just the sweetest?
Khloé Kardashian took to her site to issue her own birthday message, saying,
Happy birthday Caitlyn! Thank you for always inspiring me to live my most authentic life.
Kendall Jenner wished Caitlyn Jenner a happy birthday with a shout-out of her own, saying,
Happy birthday to my hero! I hope you have the best birthday ever, Dad! I love you so much and I'm so proud of you for everything you've accomplished. I can't wait to see what else you'll achieve. You're the best dad ever!
Alright, now I'm just under the impression that Kendall, Kylie, Khloé and Kim were having an all-out battle to create the most heartfelt tribute to Catilyn.
This just seems too perfect!
Happy birthday, Caitlyn!
Citations: The Surprising Way Kim Kardashian Paid Tribute to Caitlyn Jenner on Her Birthday (People)