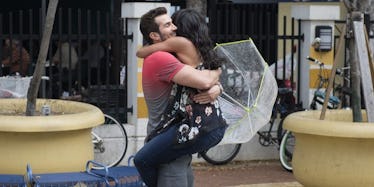 'Bachelorette' Rachel Is Engaged To Bryan, So When's The Wedding?
ABC/Rodrigo Varela
Season 13 of The Bachelorette has come to a close. While the season is over, Rachel and Bryan's life together is just beginning. First, they have a wedding to plan. My inner girly-girl is squealing, but the side of me who has been ghosted by f*ckboys is making me roll my eyes. Sigh. I can't fight it, I love weddings. So, when will Rachel and Bryan get married? They divulged a little bit of info during the live finale.
UPDATE: On Tuesday, August 8, Bryan and Rachel sat down with Ryan Seacrest and Rita Ora on Live with Kelly & Ryan. Bryan revealed that while they don't have a date set just yet, Rachel wants a winter wedding and so they're thinking December 2018 or January 2019 for their nuptials.
EARLIER: First, a look at their journey: Bryan and Rachel have had amazing physical chemistry the entire season. Rachel has been batting her eyes in his direction since he first spoke Spanish and jammed his tongue down her throat. Muy caliente. However, their relationship did experience a little drama. Bryan had perhaps the most awkward date when he first met Rachel's family.
How awkward was it? It was so awkward he literally walked out in the middle of dinner. Family drama aside, Bryan persevered and remained Rachel's rock throughout the entire season. It paid off for him... big time. The engagement was goals AF.
Bryan took her hands and said,
That first night, it was like a chemistry bomb. You are everything I could ever want in a woman, a wife, a person. I am totally head over heels in love with you. I just hope you feel the same.
Tears, so many tears. How could you resist that? Rachel couldn't, obviously. She said,
My heart has never been more confused. I've always been drawn to gambling my feelings on complicated relationships. … Right here in this moment, I see my forever. I just want to tell you that I love you, and I can't imagine spending my life without you.
This season's finale has actually been one of the most romantic ever.
As far as wedding plans go, Rachel and Bryan are taking their time. While they have nothing set yet, there's one thing Rachel for sure wants: a winter wedding. She admitted she wants to get married in the winter to Chris Harrison after The Bachelorette finale. Ugh, I can't even handle how gorgeous Rachel and Bryan's wedding will be.
Honestly, I was unsure about Bryan at the beginning. I do think he and Rachel have great chemistry, and they seemed so, so happy together. Now, I'm ready for some engagement pictures, please.