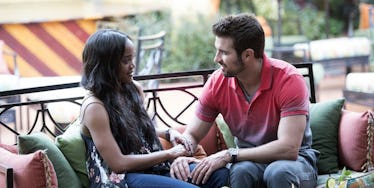 'Bachelorette' Rachel Finally Picked Bryan And His Proposal Was Everything
ABC/Rodrigo Varela
Warning: This post contains the BIGGEST SPOILER for The Bachelorette finale. Nothing says "Summer is over" like The Bachelorette finale. But in truly Bachelorette form, Rachel Lindsay's finale three men went out with no shortage of drama. Season 13 of The Bachelorette premiered its three-hour season finale on Monday night, so yes, millions of people spent their Monday night watching a Bachelorette episode longer than a Christopher Nolan film. But it was all worth it, because at the end of those three hours, Rachel finally had a fiancé. That's right: Bryan proposes to Rachel on The Bachelorette!
Are you surprised? Angry? Heartbroken? Apathetic? Already sending Peter your number? Well, however you're feeling, hopefully you feel like this journey was worth it. One way or the other, you have to admit Bryan's proposal was moving.
Bryan took Rachel's hands and said,
That first night, it was like a chemistry bomb. You are everything I could ever want in a woman, a wife, a person. I am totally head over heels in love with you. I just hope you feel the same.
Rachel's response was ambiguous at first, but then turned positive. She said.
My heart has never been more confused. I've always been drawn to gambling my feelings on complicated relationships. ... Right here in this moment, I see my forever. I just want to tell you that I love you, and I can't imagine spending my life without you.
Then they kissed, he dropped down on one knee, and Bryan lived happily ever after as a consolation prize to Peter! Yay!
Those last two rose ceremonies were certainly the most emotional and difficult ones yet. We started the episode with our final three men: Eric, Peter, and Bryan. Before the last date could begin with the final two, Rachel still had to vote one man off. Bachelor Nation held its breath, wondering if Rachel would finally put her foot down on Peter's weird aversion to marriage. (Not saying it's weird not to want to get married in general, but it is weird when your on a husband-finding reality show.)
But nope, it turns out Peter wasn't the one sent home by Rachel: It was Eric. Goodbye, charming, lovable Eric who doesn't want his name in your mouth, and didn't know how to spell "facade."
So then it was just Peter and Bryan. And we all know Peter has been a fan favorite for weeks now — but the dude just couldn't get over his commitment issues. But don't cry too hard for Peter, because rumor has it he has his eye on being the next Bachelor anyhow. (If Eric doesn't beat him to it.)
Which leaves Bryan as our winner! I know, I never really would have guessed this from the first episode, either. But when you look back on it, Bryan and Rachel did have some sweet moments. You might not remember, but Bryan actually got the very first rose of The Bachelorette: the first impression rose. I guess Rachel calls 'em as she sees em!
Of course, many fans have had their doubts about Bryan this whole season, accusing him of putting on a facade (you know, that word Eric can't spell).
Well, he may not shine on screen, but clearly Rachel must see something in this dude. Rachel and Bryan, I wish you all the luck and happiness in the world! And Peter, DM me for my number. I'm serious.