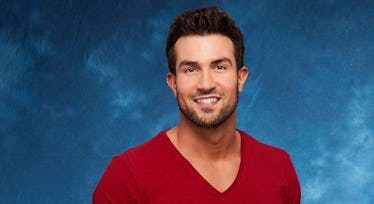 'Bachelorette' Rachel Gave Out Her First Rose: Here's What We Know About Him
ABC
Holy roses, batman! ABC just premiered the latest season of The Bachelorette and it was a freaking doozy.
The world has literally been sh*tting it's reality TV-loving pants waiting for this season with Bachelor alum Rachel Lindsay to kick off, and we've been taking bets on who the lucky winner will be since Chris Harrison announced the cast on Facebook live.
So, who is the lucky lad to take home the first rose? BRYAN WITH A Y OF COURSE!
The third gentleman to meet Rachel (but the first to let us know he thinks very highly of himself), this chiropractor comes in swinging. What's his big move, you might ask? Oh ya know, some abstract reference to Colombian men being trouble, but to his delight, Rachel says she "likes trouble."
There's also lots of smooth talk in Spanish, a joke about being good with his hands (eye roll) and wouldn't ya know it, the two make out. Like. A lot.
It was straight to First Impression Rose Town. Well, actually first it was straight to Tongue Town, then to First Impression Rose Town, then BACK to Tongue Town.
On his ABC bio, Bryan answered the question about which three words describe him best with eight words and too many slashes, claiming he is affectionate/passionate, personable/charming/funny, kind/good heart.
He also says he could be anyone else for a day, it would be Bill Gates because he is so charitable.
Bill Gates, just because he's so selfless and charitable. I would want to feel the gratification of donating billions of dollars to help so many people around the world. It would be the best feeling.
Sure, sure, sure, that sounds great -- but something tells me he is a little more interested in being the billionaire thing and less the charitable thing. For example, he could have said Mother Theresa... just saying.
Relax, Bry-guy. You might have Rachel's heart, but not the rest of America's JUST yet.