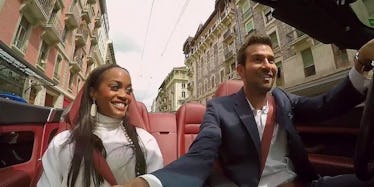 Why Does Everyone Hate Bryan On 'The Bachelorette'? We Investigated
ABC
Here we are. The final three. Bachelorette Rachel Lindsay has narrowed down the pack to her last three contestants, and in the lead we have... Bryan. Ugh. Despite Lindsay's obvious affinity for the 37-year-old doctor, America just can't get on board. I investigated why people hate Bryan on The Bachelorette and here's what I came up with.
Mainly, we don't trust him.
Just like Rachel's family, we all suspect there is something super fishy about this guy. Waltzing out of a limo, immediately speaking sexy talk and shoving his tongue towards Rachel does not a sincere man make. In fact, it kind of seems like a person who... IDK... is looking to get famous for being on The Bachelorette?
From the beginning, Bryan has been aggressively claiming feelings of love and commitment to Rachel, and while yes, it is the nature of the television show, we're all still human here and know that love-love takes time.
Fans are worried Rachel can't see past the facade Bryan is putting on, and is going to miss out on her true prince because she picks a fake. Rachel said in an interview with The Hollywood Reporter,
You just have to accept that, being in a public role. I hope everyone is happy with my decision, but I know I can't please everyone.
On the final three gentlemen, she added,
Eric, Bryan and Peter have all faced negativity in their own way. And you can never really prepare for it, because we're thrown into this public view and people all have their own opinions. And they've all faced it, and my fiancé definitely has as well. I think he's handling it in the best way he can.
Oh, God. Does that sound like she chose Bryan to you guys?
Here's what Twitter thinks.
Rachel, LISTEN TO THE PEOPLE (even though we know you've already made up your mind!)
The rest of us, tune in on Monday, August 7 and cross your fingers she picks Peter. Right? Peter? Hello?