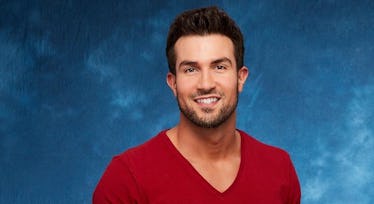 7 Things You Should Know About 'Bachelorette' Heartthrob Bryan
ABC
Happy Bachelorette Monday, everyone!
It's week five of Rachel Lindsay's quest to find eternal love with one of the men producers pre-selected for her, and things are getting exciting!
She's already sent quite a few men home, so at this point, the remaining men could all be serious contenders. It's time to dig a little deeper, though, on one particular contestant who got Rachel's (and, like, everyone else's) attention from day one: Bryan Abasolo.
In case you forgot, Bryan went in for the kiss on the first night, a move that earned him the coveted First Impression Rose.
So yeah, no one is surprised he's still around.
In fact, the last two winners of The Bachelorette -- Shawn Booth and Jordan Rodgers -- were both First Impression Rose winners, so that's definitely a good sign for Bryan.
Other than his makeout skills, though, here's what you need to know about this guy.
1. He's A Chiropractor
You may remember he bragged about being good with his hands on that first night with Rachel.
2. He's 37
At 37, Bryan is the oldest one of Rachel's suitors, but keep in mind, Rachel is 31 -- meaning she's actually older than a lot of the guys, too. Based on the above birthday post, it looks like Bryan is an Aquarius.
3. He's Colombian And Speaks Spanish Fluently
In his bio on the ABC website, he wrote,
I've spoken Spanish since I was a child. Taught to me by my mom who speaks to me primarily in Spanish.
Bryan even tried out a little Spanish on Rachel and warned her Colombians can be "trouble."
4. He Lives In Miami
He's a big sports fan, too.
5. He Attended University of Florida
So he's a Gator. According to his LinkedIn, he graduated in 2003.
6. He's A Family Guy
He frequently posts photos with his parents, cousins, and niece and nephew. In his bio, he said he definitely wanted kids, "preferably two boys, one girl. A boy needs a little brother and they both can protect their sister."
7. He's In Ridiculously Good Shape
In addition to being a chiropractor, he's a distributor for Total Life Changes, which sells tea and other products that promote a healthy lifestyle.
Tune in to ABC tonight at 8 p.m. EST to see more of Bryan and Rachel!