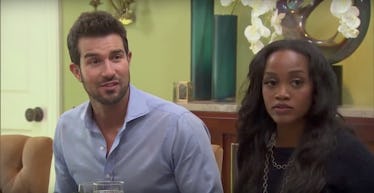 Bryan Walked Out Of 'Bachelorette' Rachel's Dinner And It Was Beyond Awkward
YouTube
It's that time of year, kids. That magical time when our Bachelorette, Rachel Lindsay, takes home her final three contestants to meet her family. For front-runner Bryan, things got a little heated during Rachel's family dinner. During tonight's episode, Bryan and Lindsay sat down with her family to talk marriage, family, and his mom, and Bryan walked out of dinner with Rachel's family on The Bachelorette.
Bryan has been leading the pack ever since he first spoke Spanish (and dirty) to Rachel at the beginning of the season. After tonight, that might be changing.  
Bryan seemed to start the night off strong by winning over Rachel's girlfriends over mimosas and Texas accents. He assured them he is "looking for something serious and ready to settle down," which was hilarious once Rachel admitted she "thought he was a douchebag." Bless him.
Later, Rachel's mom asked a super out of left field question, wondering if Bryan's mother butted heads with his future wife, who would he side with?
The rest was a straight shot to Awkwardville.
Even though Bryan seemed to answer the question "correctly," and explain that his loyalties would be with his wife, Rachel's family remained skeptical.
Weirdly, they seemed to turn on Rachel, despite reiterating how much they trust her.
After being pressed about Bryan's intentions and grilling the couple, Bryan kindly – but abruptly – excused himself from the dinner table. Rachel's brother-in-law wouldn't let off the gas in his absence, and Rachel became defensive.
All of this to say – RACHEL AND BRYAN WENT THROUGH SOMETHING TONIGHT, YOU GUYS. And what's love if not a series of challenges you overcome together?!
I'm the first to admit I am not a big Bry-guy fan, but you could feel the tension through the television at that dinner table.
Maybe excusing himself to catch some fresh air or take a big sh*t was the best he could do at the moment.