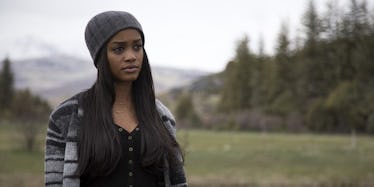 'Bachelorette' Rachel's BFF Might Have Just Revealed A Huge Spoiler About Who She Picks
ABC/Josh Vertucci
We're so close to the Bachelorette finale, but fans are still trying to answer the big question of the season: Who does Bachelorette Rachel pick? Rachel Lindsay will finally reveal the guy she's engaged to in the season finale in two weeks, but we actually might not have to wait that long to find out the big winner. In fact, Rachel's bestie Astrid Loch may have just spilled the beans on who won Rachel's heart.
Rachel's down to her final three guys on The Bachelorette, so of course fans are trying to pick up on any clues as to who gets the final rose and also who the best pick would be (which is clearly Peter). But Astrid Loch, Rachel's BFF from their season of The Bachelor, may have just put all the speculation to rest. Loch appeared in a Facebook Live video with Entertainment Tonight, and let a majorly revealing clue about the Bachelorette winner slip.
Loch talked a little about the engagement parties Rachel is planning, but she probably didn't realize she was dropping a bomb on Bachelor Nation by revealing where the parties would be taking place. One party will be in Dallas, which makes sense since that's Rachel's hometown, and then Loch revealed a second party is being planned for Miami. Ummmm, you mean Bryan Abasolo's hometown? Interesting...
They are going to Dallas to have a party there. He gets to meet all of her friends and non-Bachelor people too. And then they're going to Miami after that to have an engagement party there too.
This seems like pretty convincing proof to me. I mean sure, Miami is a nice party destination regardless, but since Rachel's having a party with her friends and family in her hometown, it only makes sense she and her new hubby-to-be would have the second engagement part in his hometown. And what clinches it is Eric and Peter's hometown's (Baltimore and Madison) are nowhere close to Miami.
So it really sounds like Bryan's going to be the winner. This may or may not be surprising news to fans of the show. Bryan became the first clear frontrunner after nabbing the first impression rose in the premiere, and Rachel always seemed to find a way to end up making out with him in every episode. But despite the clear attraction, fans and fellow contestants have accused Bryan of being a playboy, and possibly not on the show for the right reasons.
The Bachelorette finale will air on Monday, Aug. 7.