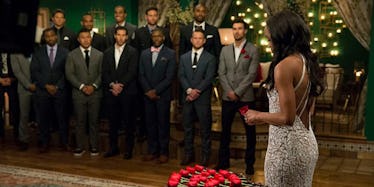 Twitter Has Picked Out The Next 'Bachelor' After Rachel's Hometown Dates
ABC
This post contains spoilers for Week 8 of The Bachelorette.
Here we are in Week 8 of Rachel Lindsay's The Bachelorette, meaning we've only got a few weeks left!
But don't fret about saying goodbye to The Bachelorette just yet — because it's never too soon to start thinking about The Bachelor.
And after watching the hometown dates this Monday, Twitter already has its next Bachelor picked out: Eric Bigger.
Now, I'm not trying to spoil anything here — Eric could still very well become Rachel's next husband! We just don't know yet.
But.... you know... just in case, for whatever reason, Eric doesn't end up with a proposal from Rachel, Twitter is already gearing for him to become the next new face of Bachelor Nation.
Fans were particularly taken by Eric this episode after his highly successful hometown date with Rachel. Eric took her to his hometown of Baltimore, and he was on the top of his game — literally. As in, they played a game of basketball, and he was on top of it.
Rachel met Eric's family and was a huge hit with everyone. His family was incredibly welcoming — and in fact, Eric's Aunt Verna was so lovely, that Twitter is even vying for her to be the next Bachelorette.
Of course, (spoilers!) Eric did make through another week, so he could still become Rachel's husband yet. Poor Dean, however, was sent home after a particularly brutal week where he was forced to reunite with his father on national TV. Oh ABC, you do the darndest, most evil things.
I can definitely see Eric stepping into the Bachelor shoes. He's charming, funny, personable — aka the exact opposite of everything Nick Viall was. And when it comes down to what I'm looking for in my next Bachelor, the antithesis of Nick Viall is all I really ask for.
Are you listening, ABC?