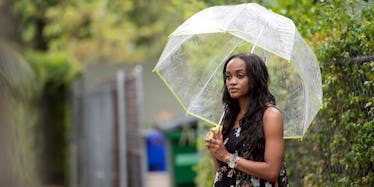 5 Reasons 'Bachelorette' Rachel's Hometown Dates Will Be The Most Dramatic Yet
ABC/Rodrigo Varela
We're nearing the end of Rachel Lindsay's Bachelorette season, and you know what that means — lots and lots of crying.
We've got our final four guys (Eric, Dean, Bryan, and Peter), meaning Episode 8 is coming this Monday with everyone's favorite: hometown dates!
Hometown dates are a classic staple of Bachelor Nation, and they rarely disappoint. How can you go wrong when you force parents who've never even taken a selfie to be on national television?
Based on the trailer ABC released, this is going to be one of the most dramatic hometown dates episodes yet.
So let's highlight some of the reasons this episode is going to be a clusterfrick of drama, shall we?
1. Dean's Unstable Home Life
In last Monday's episode, we learned a little more about Dean's relationship with his father after Dean's mother died. Dean was just 15.
Dean told Rachel his strained relationship with his "eccentric" dad was one reason he was nervous for the hometown date.
Dean said,
He's just not a person that has any bearing on my emotional experience, I guess you could say. He's become quite a bit more eccentric. So, what I wish you could see is the family that I had in my most developmental years of ages 0 to 15, and not the family that abandoned me at the most vulnerable time in my life.
And in the preview of next week's episode, we get a glimpse of what Dean's dad looks like.
Hey, everyone has family issues, and they're never easy. And it's definitely not easy to have those issues broadcast on national TV.
2. Peter's Cynical Mother
In this trailer, Rachel asks Peter's mother, "Is he emotionally ready for marriage?" And Peter's mom replies, "Not necessarily."
Now, take this quote with a grain of salt, since sound bites in Bachelorette trailers are almost always taken out of context. But still, it sorta seems like Mama Peter doesn't want to let her baby go.
3. Bryan's Murderous Mother
In a preview released to E!, we saw a clip of Bryan's mother saying to Rachel, "If he's happy, I'm happy. If not, I'll kill you."
It was probably a joke but, still. Uhhh, OK, Mama Bryan!
4. The Lindsay Family's Opinion Of Bryan
Again, grain of salt, but in this preview Rachel's sister straight up says that she doesn't like Bryan. And it looks like there's going to be some type of drama when Bryan sits down to dinner with the Lindsay family.
5. All Of The Crying
Seriously, this trailer has so much crying!
So.
Much.
Crying.
Well, Episode 8 definitely won't be boring, at least!
The Bachelorette airs at 8 p.m. ET, Mondays on ABC.