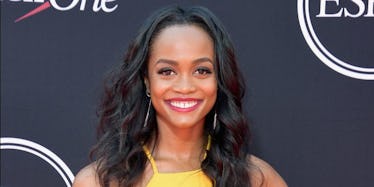 'Bachelorette' Rachel's Engagement Ring From Bryan Is Gorgeous – PHOTOS
Matt Winkelmeyer/Getty Images
When it comes to true love, no one knows it better than Neil Lane. This is a man who has women figured out. Well, at least me. One of my favorite parts of The Bachelorette finale is vicariously ring shopping through the contestants. Rachel Lindsay definitely took home a prize. The photos of Bachelorette Rachel's engagement ring from Bryan are so beautiful. The ring is definitely one of a kind. It's a gigantic pear-shaped diamond with a diamond halo — GORG.
Neil Lane is so legit, I love all the rings shown. It turns out, we've probably seen all the rings before. When Nick Viall proposed to Vanessa Grimaldi, he chose a 3.75-carat, round-cut center diamond, surrounded by smaller diamonds... 164 round-cut diamonds in all. While it was gorgeous, fans pointed out that we had all seen the ring before.
Robby Hayes actually chose the same ring to propose to JoJo Fletcher. Although JoJo never saw the ring, we all still had questions. Neil Lane explained in an interview with People,
I bring six rings and over the years, over the nine years, some are the same, some have changed settings or are re-designed, and some are totally new. The most important thing is for a ring to speak to the particular man and to the woman he is in love with. If a ring doesn't speak to one person, then it wasn't meant to be. If that particular ring wasn't meant to find a home with JoJo, but rather spoke to Nick and Vanessa, then that's the way it should be. It's found its home.
Damn, that's romantic. Enough about the past, let's focus on the future. Here's a closeup of Rachel's ring:
Now that's some bling, bling. Bryan speaks Spanish, is a doctor, and knows how to pick out some serious jewelry. Maybe we should all reconsider our #TeamPeter posts.
An amazing ring and Rachel looks great wearing it.
I'm glad Rachel Lindsay has found her forever love with Bryan. Wishing these two the happiest engagement.