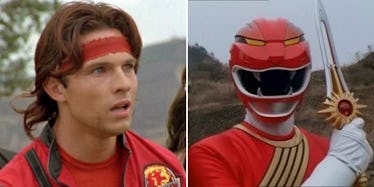 Red Power Ranger Sentenced To 6 Years After Killing Roommate With Samurai Sword
ABC Family
Ricardo Medina Jr. definitely should not have taken his "Power Rangers" training home with him.
The actor best known for portraying the Red Ranger in "Power Rangers Wild Force" was just sentenced to six years in prison after admitting to killing his roommate with a samurai sword.
Ummm, doesn't six years seem like a pretty short sentence for a guy who straight-up admitted to murdering someone? There is a self-defense aspect to the case, though, so I guess that's why the sentence is shorter than you might expect.
Medina says his roommate barged into his room after an argument and he used the sword to fend his roommate off in self-defense. The kicker is that Medina was actually also the star of the later Power Rangers series "Power Rangers Samurai," so he clearly had some practice with that samurai sword he used.
This whole incident went down back in early 2015. He initially was held in jail for two days before the district attorney released him after no charges were filed against him. A year later, he was re-arrested and formally charged in connection to the murder, and just a couple weeks ago, he pleaded guilty to voluntary manslaughter.
On Thursday, TMZ broke the news that the judge has given Medina the maximum sentence of 6 years in prison.
This is probably too cynical of me, but do you think Medina waited to plead guilty until around the opening date of the new "Power Rangers" movie? Like, it just feels like really bizarre timing for this to all be happening.
Anyway, I guess Medina is going to be missing the flick now that he's got six years in the slammer ahead of him.
Hopefully, when he gets out of jail, he can find a nice memorabilia store or something like that to donate his samurai swords to... because obviously just having them laying around his house is a bad idea.
Citations: EX 'POWER RANGERS' STAR GETS 6 YRS IN ROOMMATE STABBING DEATH (TMZ)