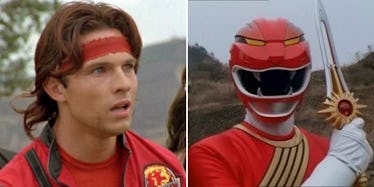 The Red Power Ranger Pleaded Guilty To Killing His Roommate With Samurai Sword
ABC Family
Ricardo Medina, a 38-year-old actor of Green Valley, California, was best known for playing Cole Evans, AKA the Red Power Ranger in "Power Rangers Wild Force."
He starred in 40 episodes of the kids' show in 2002 and returned to the franchise in 2011, appearing in 24 episode of "Power Rangers Samurai."
But on Thursday, the actor pleaded guilty to manslaughter in the stabbing death of his roommate in 2015. He used a samurai sword to commit the crime.
Medina originally faced 26 years to life in prison if he was convicted. Instead, due to his guilty plea, he will face six years at his sentencing on March 30.
On January 31, 2015, Medina and his 36-year-old roommate Josh Sutter engaged in an argument over Medina's girlfriend. Medina claims he stabbed his roommate with his sword as an act of self defense.
In October, during a preliminary hearing, prosecutors presented a 911 recording. Medina could be heard talking to Sutter, seen below, after the attack. He said,
Damn it, Josh. Why did you do this, man. Why did you make me do this?
Donald Sutter, the victim's father, said his son could not be the aggressor. He said,
Josh don't have that in his heart to attack anybody.
Medina's attorney Allen Bell said in January,
It is a self-defense case. It's been a self-defense case. You have an individual here that was the victim of a beating in the kitchen area before he went to the bedroom and closed and locked the door in order to secure himself from any continuing violence.
According to the LA County Sheriff's Department, Medina and his girlfriend went into his bedroom during an argument, but Sutter forced his way into the room. Medina then stabbed him with the sword he kept near his bedroom door.
As well as his roles in "Power Rangers," Medina had small parts on "ER" and "CSI: Miami."
Citations: 'Power Rangers' Actor Pleads Guilty to Killing Roommate (Variety)