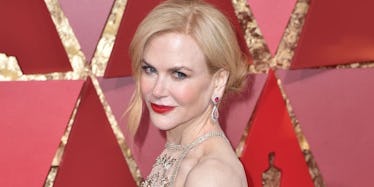 Nicole Kidman Had The Most Unrelatable Excuse For Her Seal Clap At The Oscars
REX/ Shutterstock
Remember that time Nicole Kidman forgot how to clap?
You know, that really awkward moment during the Oscars when people mistook the actress for Edward Scissorhands or a seal?
Ah, yes. Here it its!
Let's take another look in slow motion, shall we?
See? That's not normal hand clap, and viewers grew concerned about Kidman's attempt to clap her hands like a regular person.
Looking back at this very moment, it's obvious something was wrong here.
Well, it turns out there was something that caused Kidman to clap like a little seal girl, and none of us can relate.
You know what it was?
A ring — a shiny diamond ring that was too big for her to handle.
There was a massive, expensive shining rock placed inconveniently on her pointer finger, and we didn't even notice.
LOOK AT THAT THING. HOW IN THE WORLD DID WE MISS THAT?!
Kidman told radio show "Kyle and Jackie O" about the gigantic ring on March 9, and explained how it prevented her from clapping like a normal human.
She said,
It was very awkward. I was like, gosh, I wanna clap! I don't want to not be clapping — which is worse, right? 'Why isn't Nicole clapping?' So therefore I'm clapping, but it was really difficult because I had a huge ring on, that was not my own. But was absolutely gorgeous. And I was terrified of damaging it.
We totally get it! Pricey diamond rings can be such a nuisance, right?!
RIGHT?
LOL, just kidding. I wouldn't know. I've never borrowed a chunky diamond like that from a friend before.
Apparently, Kidman hadn't either prior to Oscars night. Maybe if she did, maybe she wouldn't have been so dang uncomfortable when it came to applauding her colleagues.
At least footage of the actress wasn't the most awkward moment of the show, though.
Citations: Nicole Kidman has a pretty legit excuse for her weird seal clap at the Oscars (Mashable)