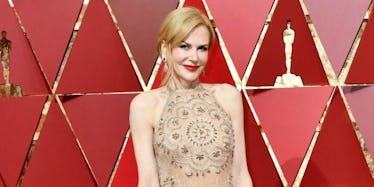 Nicole Kidman's Creepy 'Seal' Clap At The Oscars Actually Has People Concerned
RERX/Shutterstock
You OK, Nicole Kidman?
A lot of folks on social media are worried about the 49-year-old Australian actress thanks to one brief moment that occurred during Sunday night's 2017 Oscars at the Dolby Theatre in Los Angeles.
What happened?
Well, as you're about to see in the video below, Nicole Kidman clearly doesn't know how to clap.
I'm not sure what else to say, really, but plenty of folks on Twitter spoke up after the cameras caught Nicole Kidman clapping like, well, a seal.
I mean, don't say I didn't warn you.
There's so much happening here with Keith Urban's wife, I don't even know where to begin.
Like, how did she physically get her hands to do that? Repeatedly?
Thankfully, I don't really need to say much, we'll just let Twitter go in on the 49-year-old actress's clapping catastrophe.
Twitter user @baratunde saw Nicole Kidman and thought she clapped like a "seal."
Another Twitter user made the obvious, yet extremely necessary, Edward Scissorhands comparison.
I mean, what is happening here? Like, did aliens take over Nicole Kidman's body at the 2017 Oscars?
Yeah, this is a pretty on-point reference.
This is definitely how you hold your iPhone after you finish your Buffalo Wild Wings order but the waiter forgot the wet naps.
Woke up this Monday morning like...
Making jokes about Nicole Kidman's clapping is one thing, but some folks on Twitter are legit "concerned."
It appears some people on Twitter are more than a little "weirded" out about this whole thing.
Some Twitter users, though, have tried to come up with a theory or two to explain Nicole Kidman's awkward clapping. What do you make of this?
Interesting.
OK, I think that's enough for now. Before this whole clapping thing went down, Nicole Kidman spoke with Mario Lopez about the film she was nominated for, "Lion."
She said,
Just to have this film recognized, celebrated like this… we've already won.
Nicole, I think it's safe to say you won in more ways than one.
Citations: Why can't Nicole Kidman CLAP? Actress gets roasted on social media for not being able to applaud properly at the Oscars (Daily Mail Australia)