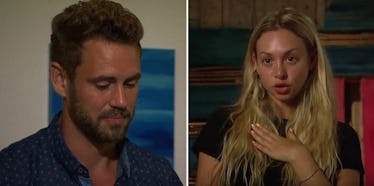 Nick Viall Opens Up About How Much He Misses Corinne In Emotional Blog Post
ABC
The infamous Corinne Olympios is not a woman you easily cast easily.
She has so much going for her. She's beautiful; she's wild and exciting; she's 24 years old and has a nanny named Raquel who makes the best cheese pasta.
Her personality is the reason reality TV was invented.
Sadly, her experience on "The Bachelor" has come to an end.  (Don't worry. She's already trying to get her own TV show.)
Nick Viall wrote about how difficult it was to say goodbye to Corinne in a blog post on People.
Letting a woman go is hard. Letting a woman go who puts whipped cream on her breasts for you is damn near impossible.
Nick wrote,
I was dreading that rose ceremony... Saying goodbye to Corinne was terrible. Corinne is an exceptional woman who made such an impact on me during this journey. There are so many memorable moments we shared together. From our first kiss the night we met to bouncy castles and meeting her amazing family (and her nanny Raquel!).
He also touched upon how viewers and the other girls may have misjudged Corinne. Perhaps, the producers played up her antics. He continued,
Corinne, much like myself, was considered controversial; she wasn't always taken seriously in the house, she went after what she wanted and she is a bold woman. What I saw was a woman who deserves more credit in this world.
Nick revealed he still misses her, despite being about to propose to another woman.
Corinne is truly one of the most interesting, caring and charismatic women I've ever known.... to this day I miss Corinne and she deserves all the love in the world.
Hopefully, Corinne can find it in her heart to forgive Nick for dumping her on national television.
It sounds like he really cares about her and their friendship.
Citations: Nick Viall Pens Emotional Essay: "To This Day I Miss Corinne" (Refinery 29)