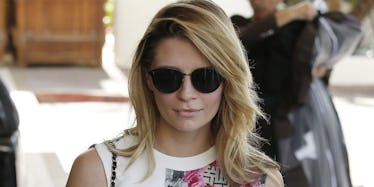 Mischa Barton Opens Up On Sex Tape And 'Emotional Abuse' From Ex-BF On 'Dr. Phil'
REX/Shutterstock
An upcoming episode of "Dr. Phil" will answer questions surrounding Mischa Barton's sex tape scandal.
In a preview of the interview, airing Monday, the daytime host asks Mischa how she learned of the "revenge porn" tape's existence.
The "OC" alum tells him,
Several months ago… It got to me because somebody came up to me on the street, outside of the building, leaving, and said, 'There's something I need to tell you.' And I didn't believe it at first. I couldn't believe it, because I had loved this person and I didn't think it was possible. And I later learned that it was entirely possible.
Mischa claims her ex, Jon Zacharias, didn't attempt to blackmail her with the footage, though she insists the "emotional abuse" was present.
In court paperwork obtained by the Daily Mail, Jon teamed up with another of Mischa's exes, Adam Shaw, to sell the footage for $500,000 without Mischa's consent.
In the impending interview, she explains,
It was obviously complete emotional blackmail… It was just one of those things where it's time to distance myself from all of these people immediately. Because there's not much you can do. It's really out of your hands and it was a crime. It is a serious crime to tape people without their knowledge like that. And I had made the mistake of putting myself in that situation with the person, so I just removed myself from it as quickly as I could. And then it just continued to be complete emotional abuse after that, for like the last several, several months.
Mischa also delves into the evening of her 31st birthday in January, when she was drugged with GHB, calling it "complete hallucination."
Just because she's removed herself from Adam's and Jon's social circle, doesn't mean Mischa is finished with either of them, legally speaking.
Mischa's lawyer, Lisa Bloom, said in a press conference,
Ms. Barton and I stand for a woman's right to choose what images of her own body will be made public, and you have no right to exploit her or any woman for revenge or financial gain. You have been warned.
You. Have. Been. Warned. Ya turds.
Citations: MISCHA BARTON I COULDN'T ESCAPE EMOTIONAL ABUSE From Sex Tape Partner (TMZ)