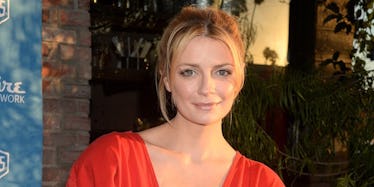 Mischa Barton Files Restraining Order Against Ex-BFs Who Tried To Sell Sex Tape
REX/Shutterstock
I said it once and I'll say it again: Don't mess with Mischa Barton.
Upon hearing a "revenge porn" sex tape was being shopped to distributors, the former "OC" star has taken out restraining orders against two ex-boyfriends, DailyMail.com reports.
Add Jon Zacharias and Adam Shaw to your "Dudes I'll Never Fuck" lists, people, because a judge signed off on temporary domestic violence restraining orders against both of Meesh's former flames.
In paperwork obtained by the DM, Barton stated she began dating Jon last October, during which time he recorded footage of her "having sex with him, taking a shower" and "other naked pictures" without her "knowledge or permission."
Now, Jon is attempting to "sell those tapes without [Mischa's] permission for $500,000," DailyMail.com reports.
Mischa described Adam and Jon — who could have just set up a GoFundMe page if they were so hard-up for cash to pay off the student loans they used to subsidize their educations at Perv University — as two individuals who "desperately need money."
The 31-year-old actress dumped Jon after discovering he was dating her solely because of her celebrity status and began dating his former friend, Adam.
Adam attempted to copy and erase the incriminating footage from Jon's computer, though Mischa admitted,
Mr. Zacharias is very technical, so I doubt that Mr. Shaw was actually able to erase anything from Mr. Zacharias' computer.
Before long, Adam and Mischa's relationship also ended and he "tried to take advantage of [her] and forged [her] signature on some checks. He was arrested."
Mischa and lawyer Lisa Bloom are gunning for these two sad idiots with every bit of legal power they have to preserve the actress' career and privacy.
Mischa said,
It would hurt my career and I would be publicly embarrassed. The attempt to sell these videos or photos is nothing short of domestic violence in the form of revenge pornography and is being used to get back at me after the breakup of a relationship and to take advantage of my celebrity status — all without my permission, knowledge or consent.
In a press conference Wednesday morning, Mischa vowed to fight the release of the footage "not only for myself, but for all the women out there."
She added,
I want to protect them from the pain and humiliation I've had to go through… No woman should have to go through this… It is a very hard thing to do but I'm glad that I'm finally standing up for myself.
Oh, sorry. Was I standing and applauding and weeping, again? My bad.
Mischa's lawyer warned anyone confident enough to sell or release the tape they'd be proceeding "at your own peril."
She said,
Ms. Barton and I stand for a woman's right to choose what images of her own body will be made public, and you have no right to exploit her or any woman for revenge or financial gain. You have been warned.
A quick PSA: If anyone out there wants to keep having sex with women, stop recording them — or doing anything at all to them — without their consent. It's not even hard. You'll figure it out.
Citations: Devastated Mischa Barton takes out restraining orders against the TWO ex-boyfriends she claims are trying to sell a sex tape of her for $500,000 Read more: http://www.dailymail.co.uk/news/article-4318486/Mischa-files-restraining-orders-against-sex-tape-sellers.html#ixzz4bV6zqe8p Follow us: @MailOnline on Twitter | DailyMail on Facebook (Daily Mail)