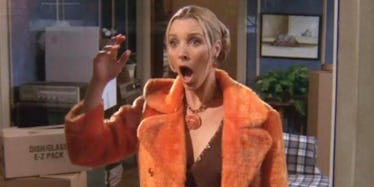 There Was A Mini 'Friends' Reunion And The Pics Will Give You All The Feels
NBC
Just in case you were feeling a bit stuck in second gear today, here's your reminder the "Friends" cast is still there for you.
Two-sixths of the iconic sitcom cast had a little reunion on Wednesday night, and obviously must have reminisced about all those memorable moments in Central Perk and Monica's apartment.
So which "Friends" got back together again? I'll give you a (big) hint:
Yep — Phoebe and Monica, back in action! Lisa Kudrow and Courteney Cox reunited on Wednesday night at the Open Mind Gala, a ceremony to benefit mental health advocacy and research, which Kudrow hosted.
Though it's been almost 13 years since their beloved sitcom ended, Lisa and Courteney are clearly "Friends" for life! Just look at their adorable reunion photo:
It's always nice to see some old "Friends" getting together again. The cast of the beloved '90s sitcom has reunited multiple times in the more than a decade since the show last aired, and every time it excites fans, who have been clamoring for some sort of film or television reboot of the franchise for years.
Though fandom for the 10-season sitcom has never really waned, it exploded to new levels a couple of years back when every episode of the show was made available to stream on Netflix.
It seems like every year there's another new rumor about a "Friends" movie, but it sounds like that's just never going to happen.
Though the cast is obviously all still friendly with one another, they've shut down every rumor about a reunion project each time one's come up.
The reason behind the decision to keep "Friends" a thing of the past in this current reboot-loving culture seems to be due to story concerns more than anything else.
Back in 2013, the show's co-creator Marta Kauffman said she couldn't see a reboot happening because the show was always meant to be about a group of friends in their late 20s.
Lisa Kudrow echoed that sentiment in an episode of "Watch What Happens Live" earlier this month, saying although the cast still meets up regularly, she couldn't see how a reboot would work with all the characters grown up and with lives and families of their own.
Still, a "Friends" fan can always dream!
Citations: Mini Friends reunion! Courteney Cox and Lisa Kudrow match in black at the Open Mind Gala in Beverly Hills (Daily Mail)