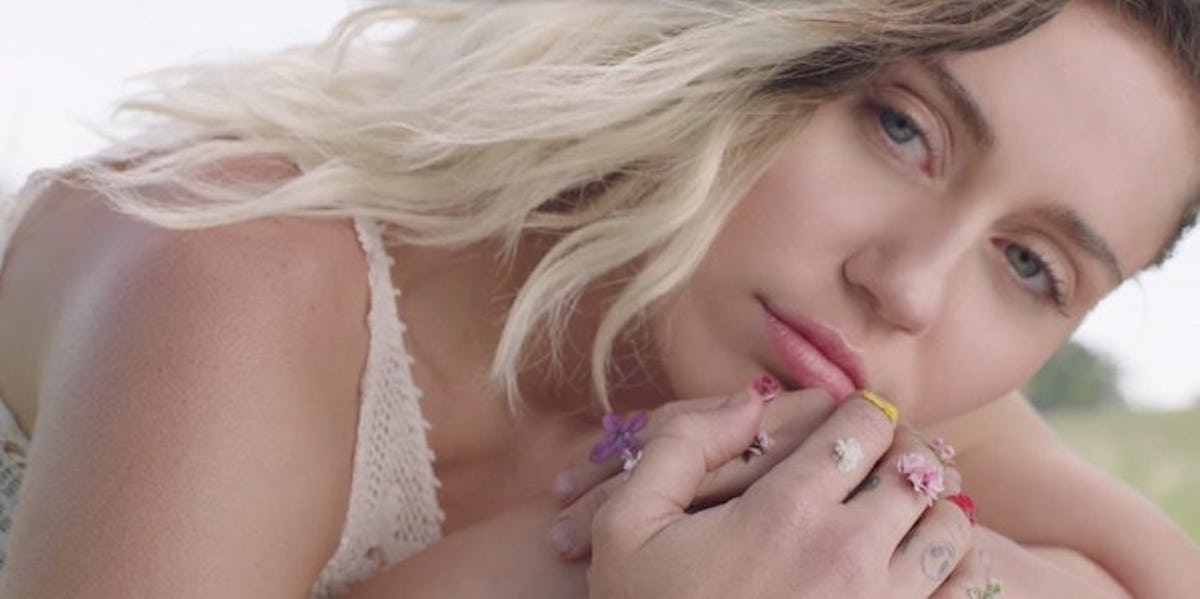 Miley Cyrus Is Dropping New Album 'Younger Now' Next Month And Fans Are Losing It
Vevo
It's finally happening, people! After years of waiting, Miley Cyrus is releasing her new album, reportedly titled Younger Now. The announcement came via Miley's official website, where she just posted the name of the album and its release date with no other info. So when does Miley Cyrus' Younger Now album come out?
According to Cyrus' site, Younger Now is set to release on Friday, September 29! No news yet on if there will be a Younger Now tour, but Cyrus' singles "Malibu" and "Inspired" will most likely be featured on the album. Younger Now will be Cyrus' sixth studio album, and her second since Bangerz came out in 2013, which debuted at number one on the Billboard 200 chart. She also released an experimental, trippy album, Miley Cyrus and her Dead Petz, immediately after she hosted the 2015 VMAs. It was available for free download.
Cyrus is also set to be performing at the 2017 VMAs along with Ed Sheeran, The Weeknd, Lorde, Shawn Mendes, Thirty Seconds To Mars, and host Katy Perry. Maybe she'll debut/perform one of her new songs from Younger Now? Let's hope so! Cyrus herself hasn't tweeted or posted on Instagram about the new album yet, but her fans sure have!
Cyrus has seriously changed her sound ever since Bangerz and Miley Cyrus and Her Dead Petz. Bangerz was basically all about partying (with "Wrecking Ball" standing out as an emotional hit), and Miley Cyrus and Her Dead Petz was just trippy and kind of weird. Since then, she's been a judge/coach on NBC's The Voice, got back together with Liam Hemsworth, founded The Happy Hippie Foundation, and released two singles with completely new sounds.
In an interview with Billboard about her new music, Cyrus said it bothers her that country music fans don't relate to her, since she has so much country music in her roots (Dolly Parton is her godmother, seriously). She said she wanted this new music to reach more, new audiences that she possibly alienated in the past, saying "unity is what we need." She said,
I've got a tattoo of Johnny Cash's autograph that he gave me when I was a ­little girl that says, 'I'm in your corner.' Dolly Parton is my ­f*cking ­godmother. The fact that ­country music fans are scared of me, that hurts me. All the ­nipple pastie sh*t, that's what I did because I felt it was part of my political movement, and that got me to where I am now. I'm evolving, and I surround myself with smart people that are evolved.
She later added,
I've also got to be open with the way I approach people with my opinions. That's the only way to make real change. And it's not because I want to sell records! I know now the ways that don't work.
Cyrus' single, "Inspired," is her most political song yet. In the song, Cyrus implores fans to fight for unity, peace, and environmental safety. Cyrus' live performances of "Malibu" and "Inspired" have been really emotional and powerful, showing just how happy she is to be back making music and using her platform to spread love and positivity.
Can't wait to hear the new music, Miley!