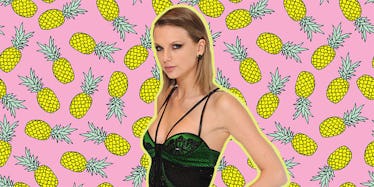 Inside The Mansion Where Taylor Swift Holds Her Epic Summer Parties
REX/Shutterstock
Taylor Swift's mansion is worth more than your entire extended family's lives.
It's been a tough few weeks for Taylor Swift. With VMA snubbin' and Kanye revelations, you have to sort of feel bad for the 26-year-old pop icon.
Granted, those videos that were leaked weren't exactly great, and she sort of brought that "Famous" controversy onto herself, but she's young! We all make mistakes and we all deserve a chance to recover from our missteps.
Boy effing howdy does Taylor Swift know how to recover from her missteps in style.
According to reports, when times get tough, Taylor has the option to travel over to Watch Hill, Rhode Island and decompress in a $17 million mansion THAT SHE PAID FOR WITH CASH.
PAID. FOR. WITH. CASH.
Taylor Swift is straight-up pulling Tony Montana shit nowadays, and I'm honestly loving it.
OK, so what exactly does $17 million get you in real estate terms?
It gets you 11,ooo square feet of mansion space...
...and 5.23 acres of total property space.
Plus, living accommodations that sit on the highest point in Watch Hill...
Eight bedrooms and eight fireplaces...
...and a pool along with access to 700 feet of beach, of course. How would there not be a pool and access to 700 feet of beach?
Taylor has famously already put the mansion to use, holding the July Fourth party of the century with her squad and a large patriotic slide.
OK, what's the deal?!?! Is there a website where I can fill out paperwork to join that effing squad?!?!? I'LL COMMIT HORRIBLE AWFUL CRIMES TO GET INTO THAT SQUAD.
Citations: Inside Taylor Swifts 17 million seaside mansion where she hosts A list parties (Business Insider)