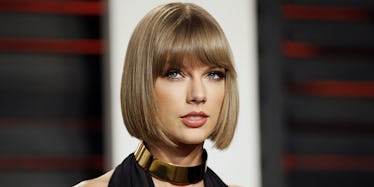 Taylor Swift Wasn't Nominated For A Single VMA And Twitter Is Really Pissed
REUTERS
It looks like MTV may have just chosen a side in the Kimye-Taylor Swift feud after all.
When the network announced the 2016 MTV Video Music Awards nominees, Taylor Swift's name was nowhere to be found.
This is a pretty big deal. After all, the legendary feud between Taylor Swift and Kanye West was first sparked back in 2009 at the VMAs.
Let's refresh your memory, shall we?
As a result of the announcement, Beyoncé earned a career-high 11 nominations for "Lemonade."
Even Adele came away with seven nominations for her hit single "Hello."
But 26-year-old Taylor Swift? ZERO nominations.
Keep in mind, T Swift had 10 nominations for "Bad Blood" last year. But it seems like people don't want to see Taylor Swift win this time around.
As a result of the news, Twitter went absolutely ballistic as Swift's supporters and haters revealed their thoughts on the singer's VMA snub.
Twitter didn't hold back after news broke that Taylor Swift wasn't nominated for anything at this year's MTV Video Music Awards.
No, seriously. None for Taylor.
Some fans just can't even believe it.
"How?!?!"
I'll be honest, if I'm Taylor Swift, I'm taking it personally.
People realized Kanye West got nominated and Taylor didn't.
Let the speculation begin.
Even Pokémon Go players took a jab.
Taylor Swift fans will be surprised in a whole new way this time around, that's for sure!
We'll just have to wait and see where this goes, guys.
Citations: Taylor Swift Snubbed by MTV Video Music Awards 2016 Nominations (US Magazine)