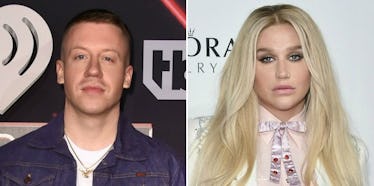 Macklemore & Kesha Dropped "Good Old Days" & The Lyrics Are So Beautiful
Getty Images/ Alberto E. Rodriguez, Mike Coppola
Macklemore just unleashed his newest song, "Good Old Days," featuring Kesha onto the world. It's the latest and greatest off his upcoming album, Gemini, and it's amazing. Macklemore's "Good Old Days" lyrics are beautiful and will make you want to hug your BFF.
The song is all about appreciating where you are in life because, in the future, you will look back and think these were the "good old days." During the verses, Macklemore recounts a few life-defining moments that he remembers fondly, and a few he wishes would've played out differently.
The lyrics are accompanied by a soft melody that you'll for sure start humming. It's an extremely catchy song — I was singing along after the third time listening to it. The soothing piano accentuates Kesha's powerful vocals, but then a rhythmic drum comes in that helps to drive the emphasis on Macklemore's voice. "Good Old Days" will have you dreaming about happy times and will encourage you to seize the day.
In the chorus, Kesha sings,
I wish somebody would have told me that Some day, these will be the good old days All the love you won't forget And all these reckless nights you won't regret Someday soon, your whole life's gonna change You'll miss the magic of these good old days
Beautiful, AMIRITE? It makes me think of those late nights spent with friends. Sigh, love you guys! As always, Macklemore lays it down with enticing lyrics that paint a strong backstory. For example, in the second verse, Macklemore says,
Wish I didn't think I had the answers Wish I didn't drink all of that glass first Wish I made it to homecoming Got up the courage to ask her Wish I would've gotten out of my shell Wish I put the bottle back on that shelf Wish I wouldn't have worry about what other people thought And felt comfortable in myself
Macklemore has spoken very candidly about his past struggles with alcohol addiction. In 2014, the rapper opened up about addiction almost ruining his music career during a special for mtvU's "Half of Us" campaign. He said,
[When] I actually drank for the first time, I was by myself. This is an indicator of who I was, from the jump. After school, by myself [at] 13 years old, maybe 14 ... 12 shots in, [my] first time ever drinking alcohol. That's not people like, 'yo, keep going.' That's me, by myself, solo in the kitchen, like I can't stop. I can't turn this off. This feels good, I wanna keep going.
Macklemore went on to explain that eventually, at 25, his father approached him about going to rehab. He notes, "If it wasn't for that rehab center, I probably wouldn't have been here."
"Good Old Days" isn't just about those "should've, would've, could've" scenarios, Macklemore thinks back fondly on some moments.
Rooftop open and the stars above Moment frozen, sneaking out, and falling in love Me, you and that futon, we'd just begun On the grass, dreaming, figuring out who I was Those good old days
Ooooo lala, who's futon? Besides former flames, Macklemore also reflects back on being young in his career.
I was thinking about the band I was thinking about the fans We were underground Loaded merch in that 12-passenger van In a small club in Minnesota And the snow outside of 1st Ave I just wanted my name in a star Now look at where we at Still growing up, still growing up I'd be laying in my bed and dream about what I'd become Couldn't wait to get older. couldn't wait to be someone
Could you imagine Macklemore having to lug his own merch around? I can't, but clearly he did. This song is like the anthem for everyone's life. TBH, growing up is really hard.
Never thought we'd get old May we always look back and think Maybe these are the moments Been scared of the future, thinking about the past We've come so far, I guess I'm proud And I ain't worried about the wrinkles around my smile I've been around Those good old days
Next time you're worried, stressed, or scared about where life is going, give "Good Old Days" a listen for some perspective. Seize the day because in the future you'll look back lovingly on the chaos. Just ask Macklemore.
Check out the entire Gen Why series and other videos on Facebook and the Bustle app across Apple TV, Roku, and Amazon Fire TV.