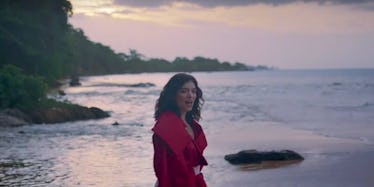 Lorde's Music Video For "Perfect Places" Is Here & It'll Give You So Much Wanderlust
YouTube
Get ready to experience major wanderlust. Lorde's "Perfect Places" music video has dropped and people are freaking out. This song first debuted on June 1, ahead of the full release of her sophomore album. The entirety of Melodrama came out on June 16.  "Perfect Places" is the last track on the album, and definitely a fan favorite. Actually, the entire album has been a hit.
Critics have been saying that Melodrama is the best pop album of 2017 so far. Ayyyy. The music video does not disappoint. It features Lorde in an array of "Perfect Places" doing her thing. Being Lorde, it's actually a deep song that will make you rethink the important things in life. Also, some of her dance moves are sick.
The message is basically that we all try to find these "Perfect Places," but what are we actually looking for? In the words of Lorde, "What the f*ck are perfect places, anyway?" SO MUCH TRUTH. Lorde is seriously the coolest. The lyrics in the chorus are next level,
All of the things we're taking 'Cause we are young and we're ashamed Send us to perfect places All of our heroes fading Now I can't stand to be alone Let's go to perfect places
Lorde always has a unique sound, yet her songs are so relatable.
Lorde spends the entire music video in exotic locations and it's gorgeous. There may be no perfect places, but I'll settle for wherever Lorde is at. I mean, she travels from the jungle to the beach to some sort of Caribbean resort and then a bonfire. Also, can we talk about her hair? I'm loving the shorter, curly look on her. New album, new hair. That's what I always say.
I am obsessed with Lorde's new album. It's really enhanced my summer, and (dare I say) my life. I'm ready for the next music video now. Please?