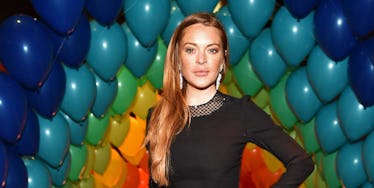 Lindsay Lohan Is Finally Speaking Up About Her Troubling Relationship
REX/Shutterstock
In case you haven't heard, Lindsay Lohan is in the news again, and it's not for something anyone likes talking about.
The "Mean Girls" actress recently made headlines after video surfaced of a very physical fight between her and her fiancé, Egor Tarabasov, as he appeared to try to take a phone out of her hand.
This is not the first time there were reports about Tarabasov's violence, and there was a previous video, reportedly of Lohan and Tarabasov, from not long ago in London where Lohan said,
He just strangled me. He almost killed me. Everybody will know. Get out of my house… Do it. I dare you again. You're fucking crazy. You sick fuck. You need help. It's my house. Get out of my house…
Now, Lohan is opening up about her relationship with Tarabasov to Daily Mail, and from the sound of it, the future of their relationship looks grim to say the least.
But at least for the moment, according to the Daily Mail, Lohan is now chilling back on her yacht where she was photographed enjoying a nice, relaxing-looking shower.
Yup, it's definitely nice to take some time for oneself in the face of controversy, especially because Lohan dove headfirst into her relationship problems when speaking to Daily Mail.
According to her interview, really the first interview she's given about her relationship with Tarabasov, it seems Lohan is coming around to the idea that her relationship has serious problems.
Often in tears, she told Daily Mail,
I realize now you can't stay in a relationship just for love. No woman can be hit and stay with that person if that person isn't prepared to say sorry. I wanted to do this interview because it's time to tell the truth. There have been so many lies printed about me recently. I've kept quiet for so long but now I'm scared of what Egor might do to me and to himself... The truth is, I wanted to make things work, but now I'm not sure that I can.
After reaching out to Tarabasov to try to meet, she seems resigned to the fact their relationship cannot go on.
She said,
I need closure. I genuinely fell in love with him but he broke my trust and made me feel unsafe. I know I'm not an angel but I've tried to fix things. It's down to him now. I had suggested we go for couples' counseling but there comes a time when I have to put myself first, my family, and also think about my career which I've worked so hard for. I also don't want to let my fans down by not being the strong woman I have become.
It seems Lohan is at peace with the fact that, as much as she loves Tarabasov, the ball is in his court if he wants to try to repair the damage done to their relationship.
Sadly, it's par for the course for Lindsay Lohan, who also spoke to Daily Mail about her relationship, or lack thereof, with her father.
She said,
My father is known for talking to the press and selling stories. He loves the attention. In the past he's said I've done drugs, he put my number on the internet. Who does that? Some of the stuff he's done proves to me he doesn't care about me.
It's a sad situation Lindsay Lohan is in, no doubt, but at least she seems to be moving forward from the controversy with a clear head about what happened and what she wants to do, and I think we can all agree that's a positive outcome.
Citations: 'No woman can be hit like this and stay with her man': Lindsay Lohan speaks out as dramatic pictures show star being chased by her Russian playboy ex who fights her for a phone in drunken rage (Daily Mail), 'It's Not the First Time': Lindsay Lohan Claims Her Fiancé Has Been Abusive in the Past and Hints Relationship Is Over (PEOPLE)