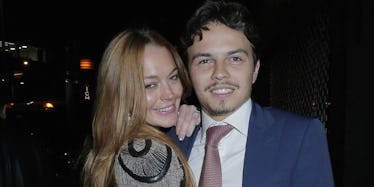 Video Appears To Show Lindsay Lohan After Being 'Strangled' By Her Fiancé
REX/Shutterstock
Over the weekend, Lindsay Lohan reportedly got into a serious altercation with her fiancé, Egor Tarabasov.
News of the feud erupted when the 30-year-old actress posted messages on social media accusing Tarabasov of cheating on her.
Lohan shared several cryptic messages on Twitter and Instagram, although most have been deleted.
Things were taken to the next level when police were apparently called to Lindsay Lohan's home in London at 5 am on Saturday morning.
According to The Sun, neighbors heard the former child star screaming and fighting with Tarabasov.
The source shared a video which appears to show the couple arguing on the apartment balcony. The Sun reports Lohan is the woman in the video screaming,
Please please please. He just strangled me. He almost killed me. Everybody will know. Get out of my house... Do it. I dare you again. You're fucking crazy. You sick fuck. You need help. It's my house. Get out of my house... I'm done. I don't love you anymore. You tried to kill me. You're a fucking psycho... We are finished. Egor, you've been strangling me constantly. You can't strangle a woman constantly and beat the shit out of her and think it's OK. Everybody saw you touch me. It's filmed. Get out! Get out.
The source explained the cops arrived to Lohan's home, but they found no one inside.
Lohan has not yet confirmed what happened on Saturday morning, but she did post an Instagram honoring her "Freaky Friday" co-star Jamie Lee Curtis.
She later added another post asking people to stay out of her personal life and respect her and her fiancé's privacy.
Tarabasov has remained silent on the incident.
Citations: Lindsay Lohan Attacked By Fiancé (The Sun), Lindsay Lohan Cryptic Messages On Twitter (Refinery 29)