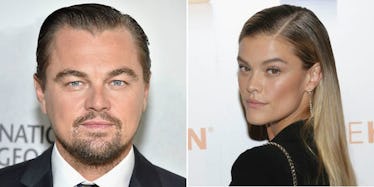 Leonardo DiCaprio And Nina Agdal Have Broken Up And We're Heartbroken
Getty Images
Attention, ladies: It looks like Leonardo DiCaprio is officially single again.
According to People, Leonardo DiCaprio and Nina Agdal have broken up after dating for almost a year.
A source close to the couple told Elite Daily,
They broke up a few days ago but they remain friends. It was amicable.
The 42-year-old Oscar winner and 25-year-old model were first spotted together last June, and although there were cheating rumors earlier this year, it looked like perhaps Leo was finally settling down.
Although the famous couple never walked the red carpet together, there's plenty of evidence of their relationship from the past year.
They showed some major PDA on the beach in July 2016.
They were also spotted multiple times around town being a little more low-key.
According to People, the couple were last spotted together in NYC in April. A source who saw them told People,
It was a really sweet moment. Nina put her arms around his neck and kissed him.
It was never shocking these two got together -- Leo definitely has a reputation for dating gorgeous models.
And while the couple always stayed pretty mum about their relationship, Nina's grandmother reportedly opened up about how her granddaughter first got involved with the actor.
Back in January, she told MailOnline,
I can tell you that it is six years since they first met, and now the relationship apparently developed. We hope that he behaves towards her; otherwise, he will get me to deal with.
Responding to her grandma spilling the beans, Nina said,
It's kind of hysterical, right? First of all, my grandma is like 75 years old. She's in Denmark. And she's on Twitter, she's on Instagram, she's on Facebook. She's really into the internet. And I've told her, 'It's fine to follow all my accounts, but only if you're okay with what I do! If you're okay with my pictures, and you don't make negative comments about my choices, then I'm fine with it.'
I'd really like a quote from Nina's grandmother on the breakup. Maybe she'll tweet something.
Citations: EXCLUSIVE Leonardo DiCaprio and Girlfriend Nina Agdal Have Split After a Year (People)