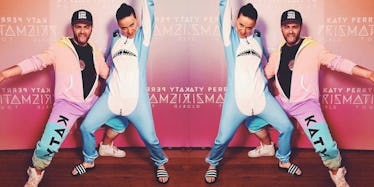 You Can Actually Buy A 'Left Shark' Onesie From Katy Perry's Website
The "Left Shark" from the Super Bowl took a bit of a backseat on the Internet in the wake of "The Dress" and the llama craze.
But, this might breathe new life into the "Left Shark" phenomenon. Katy Perry is selling "Left Shark" onesies on her website.
The onesie retails for $129.99 and is modeled after the actual shark suit used during the big game.  The hood zips up and everything.
So, if you ever wanted to dress up as an uncoordinated cartoon shark, I suggest you invest before these things sell out.
ATTENTION INTERNET: NO LONGER DO YOU HAVE TO DIY LEFT SHARK COSTUME LIKE THIS GUY: pic.twitter.com/s5RjIa4RiC — KATY PERRY (@katyperry) March 2, 2015
YOU CAN NOW BE A PROPER #LEFTSHARK WITH THIS OFFICIAL, GLORIOUS #LEFTSHARK ONESIE: http://t.co/HgMpbv4Hospic.twitter.com/8RSgqZa6sq — KATY PERRY (@katyperry) March 2, 2015
Citations: You Can Now Buy Left Shark Onesies From Katy Perry (Time)