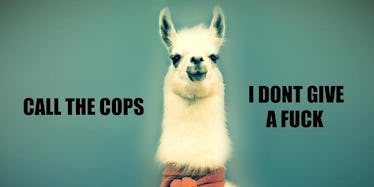 The Llama Chase Of 2015 Led To Some Absolutely Spectacular Memes
Twitter
The biggest story of the day came out of Phoenix, Arizona when two llamas escaped and ran loose throughout the streets.
Were they hurting anyone? Not at all. Was it the most awesome television of 2015? You damn right.
One day, our children will wish they could have lived through such an amazing moment in history; I'm already trying to figure out how I'll retell it.
As for the llamas, they truly don't give a f*ck. They some thugs and they be getting to the money. These memes prove it.
This was all that mattered in America today.
But, is there really anything better to worry about?
This escape made it all the way to the top, the White House.
President Obama to address the nation this evening. #llamawatch pic.twitter.com/LsATxUyi9v — Bill (@tomservo10) February 26, 2015
And the government labeled them as thugs from the very beginning.
Come on, you would do the same thing if someone grabbed your neck.
Can't you see it was a love story all along?
pic.twitter.com/6vcavUPiHe — lauren yap (@itslaurenyap) February 26, 2015
You're never supposed to interfere with true love.
These llamas could've been the '15 Bonnie and Clyde...
I DONT CARE IF WE ON THE RUN pic.twitter.com/bgBvQQeLWd — BFF (@YrBFF) February 26, 2015
...or nah.
Damn, now I have to restart that entire mission. #llamas #GTA pic.twitter.com/U9gQtOT1nw — Jeremy Conrady (@J_Conrady) February 26, 2015
At least one of them got a Madden rating up!
#Llamas Elusiveness Rating = 99 https://t.co/oEnTCpJHR4 — EA SPORTS Madden NFL (@EAMaddenNFL) February 26, 2015
Really, this whole thing was pretty immature from the llamas' standpoint.
@Ryan_Resch White Llama thug life... pic.twitter.com/iE0wn4MQCd — Wade (@TXSVT) February 26, 2015
They should've had an escape plan from the jump!
Thelma & Louise, llama-style. pic.twitter.com/BzocusLUwS — Steve McPherson (@steventurous) February 26, 2015
This type of sh*t only works in the movies.
A nice little disguise would've helped, too.
Bahahaha! And with that gnight!!!!!!! ;) *bow commences #bowmaster #gonnasleepnow #llamas pic.twitter.com/sN0Y8lwBwf — Douglas Pack (@PackDouglas) February 26, 2015
An alibi would've been even better.
#LlamaWatch pic.twitter.com/H8j2a2D35N — Chris Cline (@Comingstorm) February 26, 2015
We should've known Brian Williams was behind this all along.
#BrianWilliamsMisremembers pic.twitter.com/LdqikkaNUz — Jamie Kelly (@JamieSportsTalk) February 26, 2015
But realistically...
White Llama: getting a book deal Black Llama: 20-25 years, no parole — La Voz (@TheVoice30) February 26, 2015