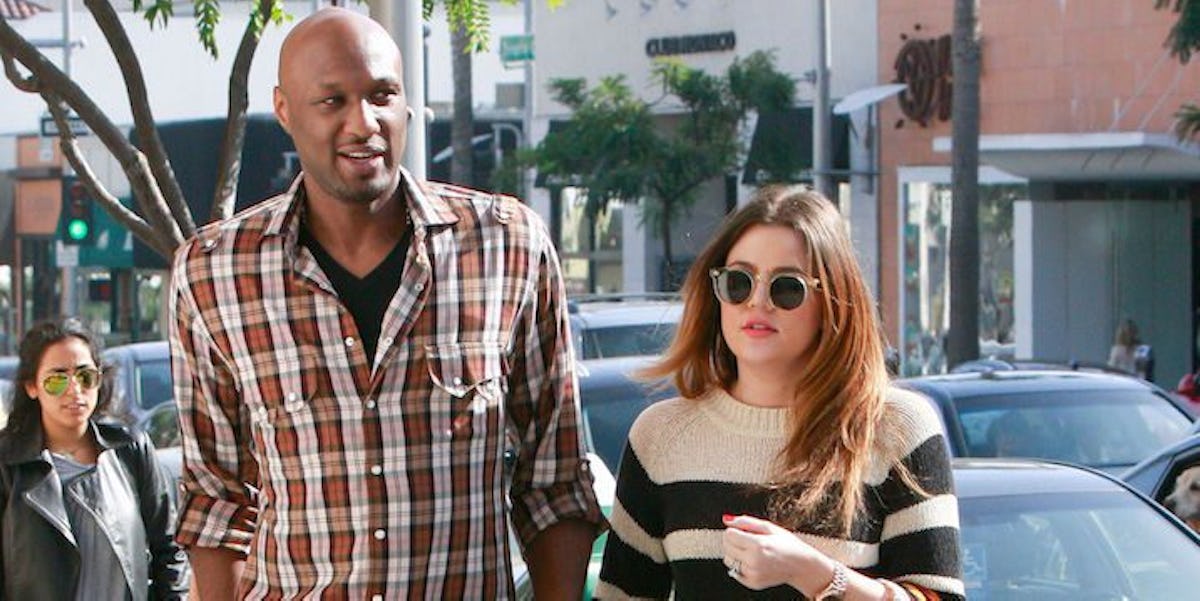 New Pics Show Lamar Odom On Lunch Date With Khloé Kardashian Look-Alike
REX/Shutterstock
So, Lamar Odom went out to lunch with his assistant, who just so happens to look like his ex, Khloé Kardashian.
Let's all take a second to cringe together at how sad and uncomfortable this is, OK?
One, two, three: YIKES.
Last week, the 37-year-old former NBA champion was seen walking around Beverly Hills with a blonde woman, who, uh, looks an awful lot like a certain Kardashian sister.
TMZ reported this Kardashian look-alike is Lamar's new personal assistant.
But in these new photos of Lamar and Fake Khloé eating lunch together, it looks like there could maybe, possibly — probably not but MAYBE — be something more than just business going on between the two.
They were spotted meeting up at a restaurant in Sherman Oaks, Los Angeles. They hugged upon meeting, sat down for lunch and were joined by several more of Lamar's friends.
Look, even if this is just a business lunch, which it probably was, I find it pretty weird Lamar hired a Khloé clone to basically take care of his every need and be by his side at all times, as assistants typically are.
Like, this woman is even dressing like Khloé. Look at these recent pics from her Instagram.
So... anyone want to take bets Lamar saw these Instas and then casually suggested to his assistant she start wearing more denim?
Kardashian and Odom haven't been officially together for quite some time. The 32-year-old reality TV starlet officially filed for divorce after four years of marriage back in 2013.
But the couple didn't actually get divorced until the end of last year.
This probably had a lot to do with the fact she was helping take care of Odom through his drug addiction, which in 2015 culminated in Lamar being found unconscious  in a brothel.
So, while it's understandable Lamar maybe got used to blonde women taking care of him, it also makes it extra yikes, ya know?
Lamar, buddy, you've got to learn to stand on your own!
Citations: Lamar Odom enjoys lunch with guys and assistant who bears striking resemblance to ex Khloe Kardashian Read more: http://www.dailymail.co.uk/tvshowbiz/article-4318764/Lamar-Odom-enjoys-lunch-Khloe-like-assistant-LA.html#ixzz4bUNksAds Follow us: @MailOnline on Twitter | DailyMail on FacebookLamar Odom enjoys lunch with guys and assistant who bears striking resemblance to ex Khloe Kardashian (DailyMail.com)