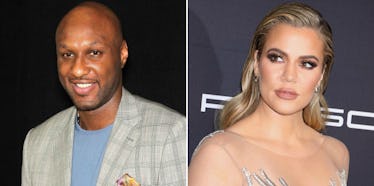 A Khloé Kardashian Look-Alike Is Now Lamar Odom's New Personal Assistant
REX/Shutterstock
It's been four months since Lamar Odom and Khloé Kardashian's divorce was finalized.
Khloé has wasted no time moving on with her love life. The 32-year-old star has been dating NBA player Tristan Thompson following her drama-filled marriage shared with Lamar Odom.
Throughout their relationship, Odom had been dealing with a multitude of issues involving drug abuse. Things really took a turn for the worst when the NBA champion nearly overdosed at a brothel in Crystal, Nevada in 2015.
Since the finalization of their divorce in December, Lamar Odom has completed a 35-day stint at a rehab facility in San Diego. When he was released, he appeared on an episode of "The Doctors" with Dr. Travis Stork.
On the show, the 37-year-old former NBA star admitted to wanting his "wife back." However, due to Khloé clearly having moved on, it doesn't seem like he'll get his wish.
That's why no one is really surprised that Lamar's new personal assistant looks A LOT like Khloé Kardashian.
Odom was seen walking around Beverly Hills with a woman who looks just like his ex-wife. She was sporting light denim jeans, a black blouse, a Yankees baseball cap and Adidas sneakers.
According to Perez Hilton, the woman is said to be Lamar's personal assistant. That doesn't seem to explain why these two were "snapped taking part in a very long, close hug together moments after" the photos were taken.
At this point, we're not sure if Lamar is really looking to stir up some speculation about his love life or if this woman just coincidentally looks like Khloé K.
Remember, last time we heard from LO, he was expressing how much he wanted her back. Now, it seems like he's either given up on that fantasy or he just wants to remind her of what she's been missing.
Citations: Holy Shit! Lamar Odom's New Personal Assistant Looks *Exactly* Like Khloé Kardashian! (Perez Hilton)