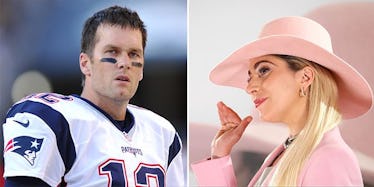 Tom Brady Names Lady Gaga As Potential Suspect In Missing Jersey Incident
REX/Shutterstock
There were plenty of memorable moments during Super Bowl LI.Remember when the Falcons led the game at halftime with 21 points against the Patriots' 3? There were also a ton of epic commercials.
Oh, and remember the time Lady Gaga appeared to "jump" off the roof of NRG Stadium?
Speaking of Lady Gaga, Tom Brady suspects the 30-year-old singer may have had something to do with perhaps one of the most memorable moments of Super Bowl LI: the case of Brady's missing game jersey.
Not only was the jersey worn by Brady, but the Patriots won the Super Bowl as he broke the record for the quarterback with the most Super Bowl wins EVER (five). The jersey is said to be valued at a staggering $500,000.
In other words, this jersey is a pretty big deal... And it's been MISSING since February 5!
In an effort to nail the culprit responsible for swiping his Super Bowl jersey, Tom Brady took to Instagram to show off his "suspect board."
Brady's hilarious masterpiece lists a number of different names, some of which you may be familiar with.
Among the suspects are the shark from "Jaws," Michael Scott from "The Office" and number one suspect Julian Edelman.
Also listed as a suspect is Lady Gaga. Brady cites the singer's trusty "escape ropes" as her potential getaway prop.
He could be on to something, but Gaga seems innocent. It looks like she was simply putting on a show, not plotting to steal the coveted jersey.
Honestly, I think Brady's got it all wrong. I know exactly who the culprit is... Here's a hint.
I believe the REAL thief here is "creepy Tom," the infamous courtroom sketch by Jane Rosenberg.
Hey, it is NOT impossible. Look at that suspicious face and that overall creepy demeanor. *Shivers profusely*
All jokes aside, I hope you find your Super Bowl LI game jersey, Tom. It would be a shame if you weren't able to frame it alongside the rest of your eBay cash cows -- er, accomplishments.
If you don't end up retrieving the jersey, we all at least know now what five-time Super Bowl champs do during their off time: arts and crafts!
Citations: Tom Brady Makes Light Of His Missing Super Bowl Jersey, Jokingly Implicates Lady Gaga as a Suspect (Entertainment Tonight)