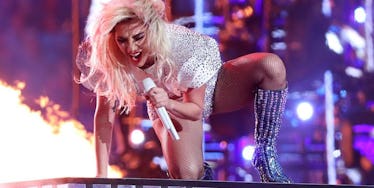 Fierce Lady Gaga Songs To Help You Remember How Great You Are After A Breakup
REX/Shutterstock
Gather 'round, all you Little Monsters out there! Today marks the 31st birthday of visionary leader and all-around music icon, Lady Gaga.
Gaga has helped the world get through a lot, whether through her words in a speech or lyrics to a song. She empowers, uplifts and acts as an inspiration for men and women of any gender, race, color or creed going through troubles in life.
Like any artist in the spotlight, we've also witnessed a gleeful Gaga in a relationship (Taylor Kinney, you're an angel) and how her work is affected post-split. (Fuck you, Taylor Kinney.)
Good thing power breakup ballads make for the best kind of jams.
To honor Mother Monster on this special day, here are seven of her greatest tracks that'll remind you the first person you need to be worshipping in life is yourself (with Lady Gaga as the second, of course).
1. "Million Reasons"
One of Gaga's newest tracks "Million Reasons" could easily be pegged as the song you play while you're curled up in bed, crying profusely with a pint of Ben & Jerry's wedged between your thighs.
Despite the emotional rollercoaster it takes you on, the song is actually pretty uplifting. It's obvious that the song is about her struggles during times with Kinney, but it also highlights that "one thing" keeping her grounded.
Regardless of any internal conflict you may have in life — or with someone else — there's always that something that'll keep you focused and going. You just have to find what that is and hold onto it. And you never know — that something could be you.
Can't get much fucking deeper than that, my friends.
2. "Just Dance"
"Just Dance" is filled with an undeniable amount of joy, and basically, the song's a really great time.
Gaga mentioned that the synthetic pop record, which was her debut single, was meant to act exactly as it sounds: A song that makes you feel good inside and encourages you to "just dance" because you're "gonna be okay."
Its upbeat nature has allowed it to stay popular, and it's even consistently played at pregames and any other opportunity that warrants those feel-good vibes.
3. "The Edge Of Glory"
Gaga goes a little bit more retro with this one, belting out catchy vocals with tons of power and soul.
Said to be inspired by the everlasting love of her grandparents, "The Edge of Glory" represents that moment where you've accomplished so much and are at the peak of life. You've accepted what's come your way, made the most of it and are just grateful for everything you've managed to experience in your lifetime.
The smooth, jazzy-rock track is basically an anthem for life that everyone should attempt to follow during their time on Earth. Appreciate what you have, fuck anyone who does you wrong and make life count for you and you alone.
Plus, there's a saxophone solo. You can't go wrong with a saxophone solo.
4. "Marry The Night"
It's OK if you want to rage your face off.
"Marry the Night" is in total support of that, acting as a salute to Gaga's party days back in the Big Apple. She has a do-all, tell-all attitude, referencing nights of passion and leaving yourself with nothing to explore once the sun begins to rise again.
Sometimes, especially during those rough patches after a bad split, you need that encouragement to go out and make new memories for yourself.
"I'm not going to cry, I'm going to marry the night," Gaga belts out. This is the epitome of that. Leave it all out there.
5. "Telephone"
The song. The nine-minute video. The featured vocalist (ahem, Bey). I mean, there's plenty to be highlighted in 2010's "Telephone," but I'll try to keep this brief.
The pop jam can serve as a reminder not to be dependent on anyone else, and when you're out, to just focus on yourself and always have a good time. Don't let anyone stop you.
In other words, when a man is blowing up your phone, and you're out doing splits on the grimy dance floor, let it go to voicemail.
You're better than he is, and you've got better things to do.
6. "A-Yo"
Another hit off of her latest album Joanne, "A-Yo" is repetitive, catchy and would make anyone want to whip out their boots and go ride a cowboy (clothing optional, of course).
Gaga gets real direct with this one, clearly talking about, "leaving our haters in the dust" and coming out victorious because you're one step ahead of the game.
Can you say, "Boy, bye?"
7. "Born This Way"
"Born This Way" is empowerment to the absolute max.
Gaga made sure to make her message in this song as direct as possible, stating who you are is who you are. You should never change for anyone, regardless of criticism or disrespect from anyone on the outside looking in (especially a nasty ex).
Speaking directly to people like minority groups and members of the LGBT community, "Born This Way" has slowly but surely become an anthem of sorts — a song that anyone can relate to.
Gaga strived to make sure everyone had their voices heard and knows how beautiful and wonderful they truly are, and it worked. And for that, I, along with the rest of her Little Monsters, can't be more appreciative.
Lady Gaga, you're a goddamn saint, and we thank you for all you've done in this lifetime.