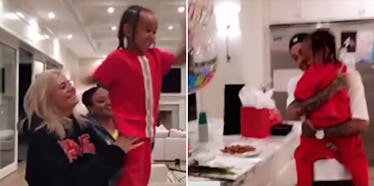 Kylie Jenner And King Cairo Threw Tyga The Cutest Surprise Birthday Party
Snapchat
Damn, Kylie Jenner and King Cairo are BFFs now.
This feels like the moment for a joke about them being the same age, or meeting at school, so I'll give you a few moments to get those out of your system.
…
We good? Good.
The 19-year-old reality star has been bonding big time with her boyfriend Tyga's 4-year-old son, King, these days.
On Saturday, the fresh besties teamed up to throw the rapper a party for his 27th birthday at Kylie's house.
King led his dad over to a food spread featuring two cakes, one colorful cake meant for eating and one boring-ass plain cake meant for throwing in the garbage, hopefully.
When King handed Tyga a hand-painted gift, the "1 of 1" rapper praised his son's work.
The pair carved out some time to get crazy in the kitchen, climbing around in a toy that can only be described as a giant clown's intestines.
When it came time for cake, the boys blew out the candles together.
This low-key celebration tops Tyga's 26th birthday, when he and Kylie were broken up due to rumors of infidelity and a lack of trust. She skipped his birthday dinner at The Nice Guy and the celebration that followed at 1 Oak.
Seeing Tyga cozy up to King and Kylie instead of hang in the corner of some dark club with Jamie Foxx, Wiz Khalifa and Leonardo DiCaprio was a heartwarming turn of events, mostly because Leonardo DiCaprio needs a role model when it comes to taking a night off.
The models aren't going anywhere, Leonardo DiCaprio, but your youth is.
~~~LEONARDO DICAPRIO BURRRRRN~~~
Kylie, Tyga and King are starting to look like one little happy family. The trio will likely be spending even more time together now that Tyga's ex Blac Chyna and Kylie's brother, Rob Kardashian, are caring for their newborn daughter, Dream Kardashian.
Ah, the konfusing kin konnections of the Kardashians. It will never end.
Citations: Kylie Jenner and King Cairo Throw Tyga a Surprise 27th Birthday (E! News)