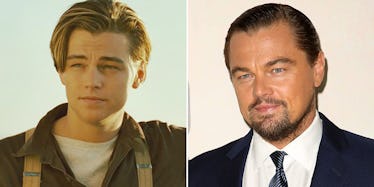 Here's How Much Leonardo DiCaprio Has Changed Since 'Titanic'
20th Century Fox/REX/Shutterstock
Travel back with me to 1997, when Leonardo DiCaprio was the sexalicious Jack Dawson making love to Kate Winslet on a boat.
Close your eyes and just picture it. OOOhh baby, those were the days.
"Titanic" is probably one of my favorite films of all time -- not because everyone dies at the end -- because young, innocent, inexperienced Leo DiCaprio is HOT, HOT, HOT.
SAY IT WITH ME, PEOPLE. SEX-EE. Just try to get through the trailer without ripping all your clothes off. IMPOSSIBLE.
I take off my bra around the 1:38 mark when he kisses her hand. By 1:44, I'm butt-naked. I just know what I want in a man... and it's L-E-O.
The hunk of man meat turns 42 years old today. It's been years since he played Jack Dawson, and Leo sure has aged a lot, but he's still the blue-eyed passionate sexpot I've always known and loved.
Honestly, Leo could be 95 years old with no teeth and I'd be into it. WOAHHH, don't call the cops. He's over 18, it's chill.
But anyway, Leonardo DiCaprio has changed a lot over the years, so today we're gonna honor his transformation from boy... to man.
Here's what Leo "Take my pants off" DiCaprio looked like during his "Titanic" days. Look at that hair, those lips, that tongue.
I CAN'T STOP THINKING 'BOUT THAT TONGUE.
Now please take a look at his sweaty naked shoulder. The things I would do to just give it a poke. A lil pat. A kissy kiss.
Even when he was frozen he was hot. Is that fucked up? I'm sorry.
THOSE CHEEKBONES, THOUGH.
Then in 2011, LEO GREW UP. LEO BECAME A BIG BOY. LEO BECAME A MAN.
And this past year, he even reunited with Kate Winslet on the Oscars red carpet.
Hey, 50 YEARS LATER AND I'D STILL TAP THAT. Am I right, ladies? *High five*
God bless you, Leo, and happy goddamn birthday.