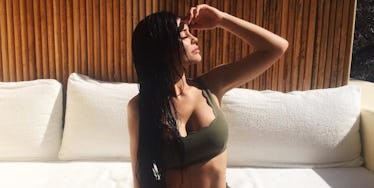 Kylie Jenner Is In Full Stepmom Mode Playing With Tyga's Son On Vacation
Instagram
Why sun your ass cheeks solo when you can squeeze in a little QT with a cutie?
I know, I know, I'll deactivate my account in a sec.
First, though, let's chat about Kylie Jenner's stepmom status. She's vacationing in Mexico with her man Tyga and his 4-year-old son King Cairo.
The trio threw on some swimsuits and lounged poolside at Casa Aramara in Punta Mita, DailyMail.com reports.
This isn't the first time the 19-year-old reality star has logged quality time with King, who Tyga shares with ex Blac Chyna.
In October, Ky helped Ty throw King an outrageous, car-themed birthday party, complete with a backyard ferris wheel.
In November, she babysat King when Blac Chyna went into labor with baby Dream, who Chyna shares with Kylie's brother Rob Kardashian.
A week later, Kylie enlisted the pre-schooler to help her throw Tyga a 27th birthday party that was notably more low-key than his past celebrations.
While co-parenting King is great practice, Kylie and Tyga likely won't welcome their own little one anytime soon. See, you have to have sex to make a baby and, after this week's sex toy scandal on Kylie's app, no one's sure where she stands on mankind's favorite pastime.
In a post on her app detailing the ways she pampers Ty, Kylie seemingly divulged the following nug:
Make your sex life fun! Spice things up with lingerie, toys and massages.
Unfortunately, Kylie did not pen the post herself and, upon discovering this item, went on a Twitter rant denouncing the content.
In response, her app team released the following statement,
This morning, a drafted article was inadvertently posted for a short period of time on Kylie's app. This was a draft that was not in Kylie's words, was not Kylie's idea and had not been sent to her for approval. We'd like to sincerely apologize to Kylie for his mistake… We deeply regret that this happened and will work hard to ensure this never occurs again.
Wait, so Kylie doesn't write all her own app content? Weird. Weird, weird, weird. Shocking. Shocked. Signing off to process this. Goodbye forever.
Citations: Stepmom in training! Kylie Jenner, 19, dotes on Tyga's son while parading around in sexy mesh swimsuit in Mexico Read more: http://www.dailymail.co.uk/tvshowbiz/article-4091826/Kylie-Jenner-19-dotes-Tyga-s-son-parading-sexy-mesh-swimsuit-Mexico.html#ixzz4UvdUgZBT Follow us: @MailOnline on Twitter | DailyMail on Facebook (DailyMail.com)