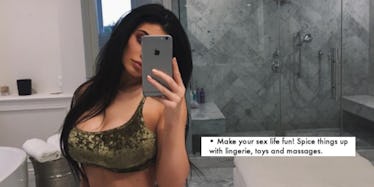 Kylie Jenner Won't Post On Her App After Post About Using Sex Toys With Tyga
Instagram
Well, 2017 has already taken a turn.
Kylie Jenner recently announced she won't be "posting personally" on her app anymore after a "very personal post" that wasn't approved made its way onto her app. *cough, Russian hack, cough*
And the post (most likely) in question mentioned the fact Kylie (are you sitting down right now?) and Tyga (you might want to sit down) use sex toys with each other. Gasp!
The piece has Kylie gushing about how she loves to pamper Tyga. However, at one point, Kylie writes,
Make your sex life fun! Spice things up with lingerie, toys and massages.
Wait, that... that's it?
I get that's kind of private and personal information, but it's not the end of the world. I think we're all mature enough in 2017 that the use of sex toys isn't really that scandalous?
*giggles, whispers "sex toys," giggles some more*
Well, Kylie all but had a meltdown on Twitter in response.
Oh, great. Juuust great. *throws phone into a fucking river*
Kylie is setting the record straight, saying she neither approved this post, nor wrote the quote she's talking about.
Ooh, you just have the gut feeling Kylie's firing someone over this.
Now, here's where the real kicker comes in. Kylie actually apologized to people who might think these were her words.
But wait... if these weren't her words, how many of her other posts were written by someone else?
You're telling me that Kylie's app is potentially written by a series of ghost writers? An app that people have to hear from Kylie in Kylie's actual words?
That's fucked up.
Kylie finished her series of tweets offering up her love to her fans or maybe to Tyga or maybe even to sex toys. Who knows?!
No matter what, one thing's for certain:
We will always love Kylie even if 17 middle-aged wordsmiths might be cranking out her app posts in a smoke-filled writer's room the likes of which haven't been seen since "M*A*S*H."
Since then, Kylie's app team has apologized and taken responsibility for the gaffe, writing that the article was a draft,
This morning, a drafted article was inadvertently posted for a short period of time on Kylie's app. This was a draft that was not in Kylie's words, was not Kylie's idea and had not been sent to her for approval. We'd like to sincerely apologize to Kylie for his mistake… We deeply regret that this happened and will work hard to ensure this never occurs again.
Hopefully, Kylie accepts their apology.
Citations: Kylie Jenner Says She Won't Be Personally Posting On Her App After A 'Very Personal Post' She Would 'Never Ever Approve' Went Up! (Perez Hilton)