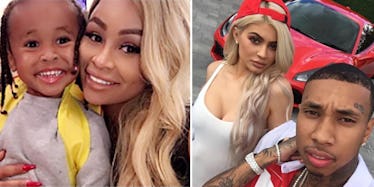 Kylie Jenner Threw A Party For Tyga's Son And It Put Blac Chyna's To Shame
Snapchat
It was King Cairo's fourth birthday this weekend, so obviously Blac Chyna and Tyga threw epic parties for their boy.
Both parents decided to celebrate the occasion separately, even though King Cairo only wanted one thing for his birthday: a Ferrari-themed banger.
In the end, it looks like the kid lucked out and got two awesome car-themed parties.
While Chyna held a party at her place, Tyga's girlfriend, Kylie Jenner, threw her own party for her boyfriend's son.
Uhhh yeah, talk about competition. Kylie ended up giving King Cairo an epic party that totally one-upped Blac Chyna's.
Sorry girl, but it looks like stepmomma Kylie J may have won this round.
Hey, don't take my word for it. Let's check out both parties below, and you be the judge.
Blac Chyna added several Snapchats of her Lego and Ferrari birthday bash for King Cairo.
It looks like King's guests got to leave the party with an awesome gift.
Oh, and there were Legos EVERYWHERE. Is this stuff even edible?!
You killed it, Chyna. I bet King Cairo was lovingggg this.
Yup, what a happy little boy. HBD, KING!
Cool, well, now let's check out Kylie Jenner's party. All right, you ready for this?
Kylie's Snapchat story started off with a selfie showing what outfit she wore for the big day.
She met up with Tyga, who was also in costume, and headed to her backyard where the ~festivities~ took place.
Check. This. Out.
King Cairo must have been in HEAVEN. Those cars are spinning, you guys! WTF?!
This party probably cost more than my college tuition, just sayin'.
STEPMOM KYLIE JUST KILLED THE PARTY GAME. Sorry Blac Chyna, the girl crushed it.
Yup, this is every 4-year-old's dream.
And look at the view from the top of the ferris wheel. THIS IS A FERRARI WONDERLAND.
Diff sunglasses as party favors? Yes please!
Horseback riding? Sign me up.
It's literally an amusement park. And look at that turn out!
The entire world was in attendance to celebrate King's big day.
Well, damn. Kylie Jenner, my birthday's coming up in a few months -- would you be able to plan my party? I could use your help... and your money.
THANKS!