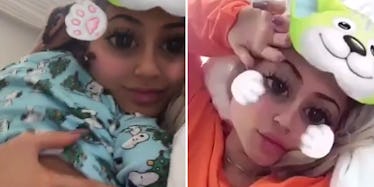 Kylie Jenner Goes Full Stepmom Mode Cuddling Tyga's Son In Adorable Snapchat
Snapchat
Hey, 19 years old isn't too young to become a stepmom! Just ask Kylie Jenner.
The reality star has been spending a lot of time with Tyga's son, King Cairo, and it's actually pretty adorable. On Wednesday, Kylie Jenner even added a sweet Snapchat of her cuddling her possibly soon-to-be stepson.
In the short video, you can see Kylie lying in bed and playing around with a funny Snapchat filter.
While she's staring at herself seductively in the camera (lol, you know the face), King Cairo is resting gently on her belly.
Out of nowhere, King Cairo springs up and attacks Kylie with a bigggg hug. AW, KING C AND STEP-MAMA K.
JUST LOOK AT THIS LITTLE MAN. HE'S SO FREAKING CUTE.
Kylie simply captioned the video,
This guy.
STAWPPPPPPP.
This isn't the first time Kylie has gone full stepmom mode on Snapchat. She's spent the last few weeks posting adorable pictures of her and King.
She also took him mini golfing and threw him the biggest banger ever for his fourth birthday.
She went all out with a ferris wheel and a bouncy house and awesome party favors.
SORRY CHYNA! Better luck next year?
Blac Chyna and Kylie Jenner are reportedly on civil terms, but I guess they also are forced to make the most of this weird-ass situation.
I mean, Blac Chyna is the mother of Kylie Jenner's boyfriend's son AND Kylie Jenner's brother's baby. Yup, that's a funky family tree.
Blac Chyna is actually due to have her second child on November 16, so next week will be filled with big celebrations for the Kardashian-Jenner fam.
It's unclear what Chyna and Rob want to name their baby girl, but I personally think "Kylie Jenner The Second" would bring things full circle.
Citations: Kylie Jenner Cuddling King Cairo (Us Magazine)