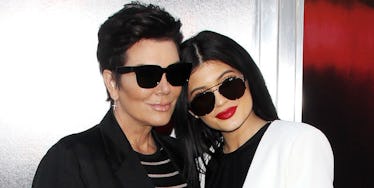 Kris Jenner Is 'Worried' About Tyga's Legal Issues And How They Will Affect Kylie
REX/Shutterstock
With Kylie Jenner constantly spending time with her rapper boyfriend Tyga, momager Kris Jenner is starting to get a bit concerned about Tyga's legal issues and how they might impact Kylie's life.
You can't blame her, can you?
A warrant was recently issued for Tyga's arrest following a legal dispute over a $480,000 judgment against the 26-year-old rapper for failing to pay rent on his home in Malibu.
Tyga neglected to show up to his court-ordered deposition regarding the failed payments, which ultimately resulted in a warrant for his arrest.
Despite purchasing a fleet of luxury cars, renting out lavish properties for as much as $46,000 per month and wearing jewelry that costs more than your average residential home, Tyga hasn't been able to bury his ongoing legal battle over the Malibu property.
According to TMZ, the landlord was furious when he learned that Tyga had purchased a Maybach but couldn't pay off his outstanding debts on the home.
To top it all off, Tyga was evicted from his Hollywood Hills home earlier this year for failing to fork over his rent.
You have to wonder where his priorities are!
The most recent news regarding the arrest warrant over the Malibu property surfaced shortly after Kylie Jenner posted a video of Tyga gifting her a $220,000 Mercedes-Maybach for her 19th birthday.
Yeah, I think it's safe to say ANY mom would be concerned about their daughter's wellbeing if her boyfriend was a wanted man.
An inside source revealed to US Weekly,
Kris Jenner is worried about Tyga's warrant and legal problems. It's because Kylie spends 24/7 with Tyga and she would be associated with that arrest, should he be arrested as a result of this warrant.
Let's hope Tyga can sort out his legal issues before Kylie gets caught in the crossfire.
Kylie Jenner has spent the last few weeks celebrating her 19th birthday which falls on August 10.
In addition to the pricey luxury car Tyga gave her, the 19-year-old birthday girl received a bouncy castle, a new puppy, tons of flowers and A LOT more.
Citations: Kris Jenner Is 'Worried' About Tyga's Legal Problems (US Weekly)