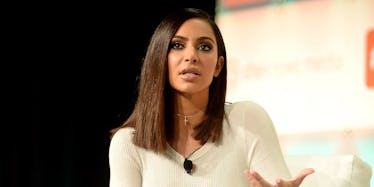 Kim Kardashian Has Broken Her Silence By Going On A Twitter Deleting Spree
REX/Shuttestock
The true cost of Kim Kardashian's terrifying gunpoint robbery is becoming apparent.
She's canceled an appearance at Hakkasan nightclub in Las Vegas in the wake of the attack.
The reality star was scheduled to appear there four times this year as part of a $1 million contract, reports E!.
She was set to arrive just after her birthday, but a rep for the club confirmed,
Given recent circumstances, Kim Kardashian will be unable to make her previously scheduled appearance at Hakkasan Las Vegas Nightclub.
Meanwhile, fans say Kim has unfollowed a ton of people of Twitter.
On Wednesday, the number of people she follows dropped from 121 to 108.
It was the first time she was active on social media after the robbery.
No arrests have been made yet in connection with the robbery at the No Address Hotel in Paris.
Masked gunmen are believed to have forced staff to reveal her location before entering the property and threatening Kim's life.
She was gagged and bound and thrown in the bathroom while thieves ransacked the place.
They made off with jewelry worth millions of dollars.
Earlier this week, Kim's diamond cross was recovered.
The armed thieves who made off with the Jacob and Co jewelry piece dropped it as they dashed away from the hotel, according to TMZ.
Sources told the website it was found on a sidewalk just yards away from the scene of the crime.
It is believed to be worth more than $30,000.
Investigators intend to run a series of DNA tests in a bid to link any possible prints to the robbers.
Kim is believed to have upped her security to "presidential levels." Kim and husband Kanye West have even hired a team of personal investigators to solve the case.
The robbery is obviously taking an emotional toll on the reality star.